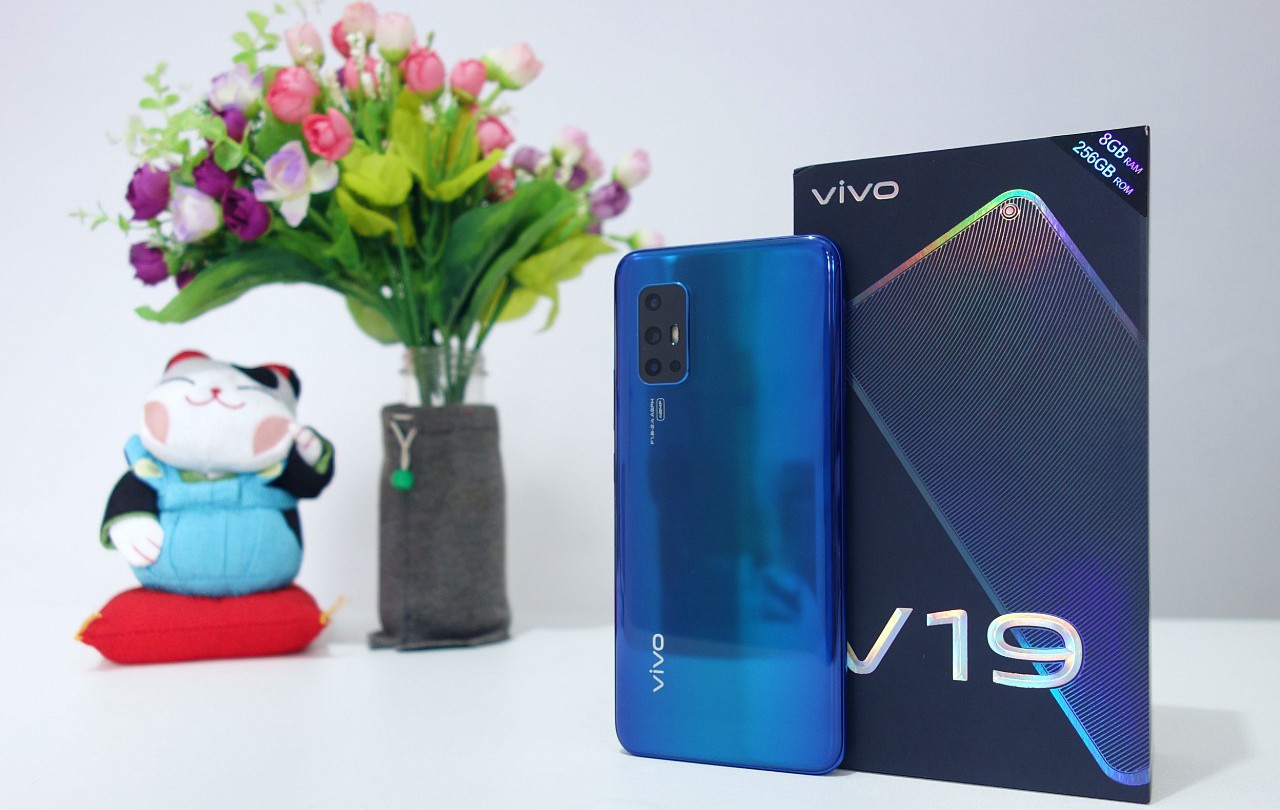 Gadgetren – Even though Vivo says that Vvo V19 is a flagship smartphone that was brought to Indonesia in 2020, but on paper the Snapdragon 675 Octa-Core chipset that it brought into the middle class.
Interestingly, this smartphone actually comes with RAM and large capacity internal storage. In addition, Vvo V19 comes with a jumbo capacity battery with 18W Dual-Engine Fast Charging support.
There are also four rear cameras that are other mainstay features because they offer a variety of functions to produce photos more creatively. As the latest Vivo smartphone, is Vvo V19 capable of fighting in its class?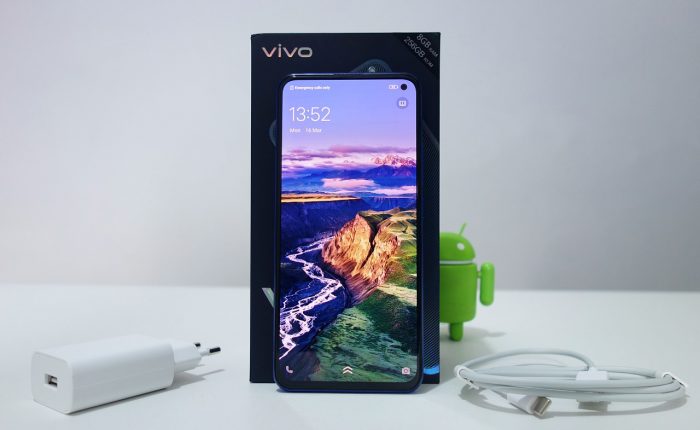 In plain view, the vivo V19 comes with an Ultra-O design screen that fills the front complete with punch holes on the top right. This design makes the screen feel relieved so that it makes me free to play games or watch videos.
In addition, the screen has a width of 6.44 inches with Full HD + resolution and E3 Super AMOLED technology that can display content clearly and brightly so that makes my eyes comfortable when looking at it.
Meanwhile, Vivo has embedded scratch-resistant which is directly attached to Vivo V19 in the sales package. But if you want to better protect the screen of this device, then I recommend buying an additional Tempered Glass to make it more sturdy.
There is also an Eye Protection feature on this device that can reduce the blue radiation from the screen to protect the eyes. The presence of Super AMOLED technology makes the fingerprint scanner sensor can be embedded in the screen.
Even though it's on the screen, the vivo V19 fingerprint sensor is able to respond to my fingerprint quickly. Moreover, this smartphone allows me to register up to five different fingerprints to be recognized by the sensor.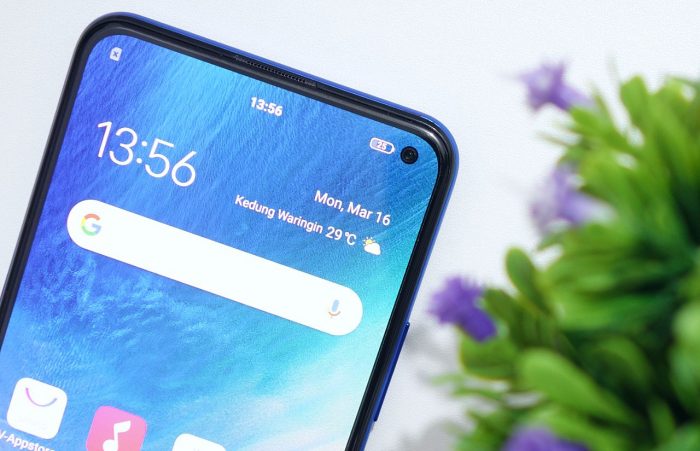 As an alternative to this sensor, vivo has also pinned a Face Unlock feature that makes it easy for me to unlock the screen using my face. Like the previous generation vivo smartphone, I am only allowed to register one face to be recognized by this feature.
I feel that Face Unlock is able to recognize my face responsively so that it can quickly unlock the screen. Especially in low light or dark conditions, Vivo V19 will automatically increase the brightness of the screen so that my face can be scanned by the Face Unlock feature.
Turning to the bottom, there is a USB Type-C port, speaker hole, and a 3.5mm audio jack port. To the right side there are Volume and Power buttons arranged vertically while on the left side looks slots for two SIM cards plus a microSD card.
Towards the back, the Vvo V19 comes with a plastic body wrapped in a choice of Crystal White or Arctic Blue colors that makes it look shiny with a vertical gradation in the middle.
I happened to get an Arctic Blue device that showed a combination of gradations of color between dark blue and light blue. There are curves on the left and right of the rear body making it easier for me to hold the vivo V19 with only one hand.
Unfortunately the dust and fingerprint nodes are easily attached to the rear body so it is better to immediately embed additional jelly cases available in the Vvo V19 sales package.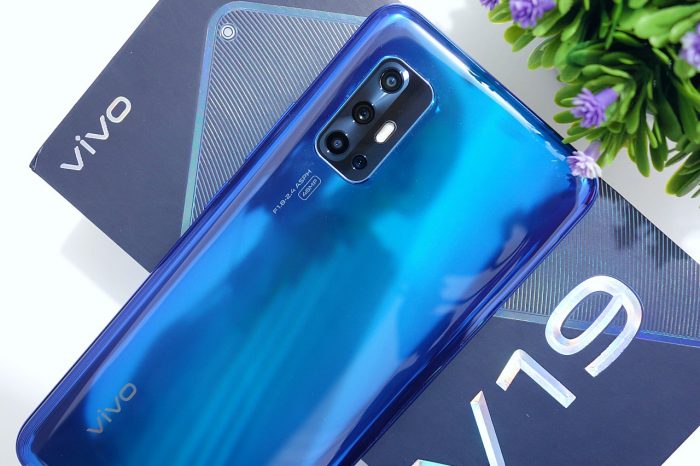 There are four cameras on the upper back which are arranged in an L shape with 48 MP main camera configuration (f / 1.8 aperture), 2 MP secondary camera (f / 2.4), Super Wide camera (f / 2.2 aperture), and 2 MP Super Macro camera .
The vivo V19 main camera uses 4-in-1 pixel binning technology which makes it default to produce photos with a resolution of 12 MP, but with good detail and color.
Meanwhile, I can produce 48 MP resolution photos by activating it in the More menu on the default Vvo V19 camera application. Furthermore, the Super Wide camera of this device is able to capture precious photo moments with an area of ​​up to 128 degrees of viewing angle. (Touch the picture to see its original resolution)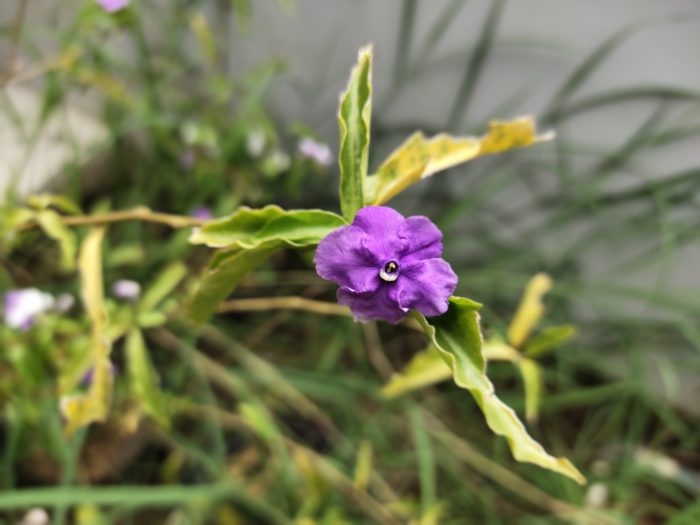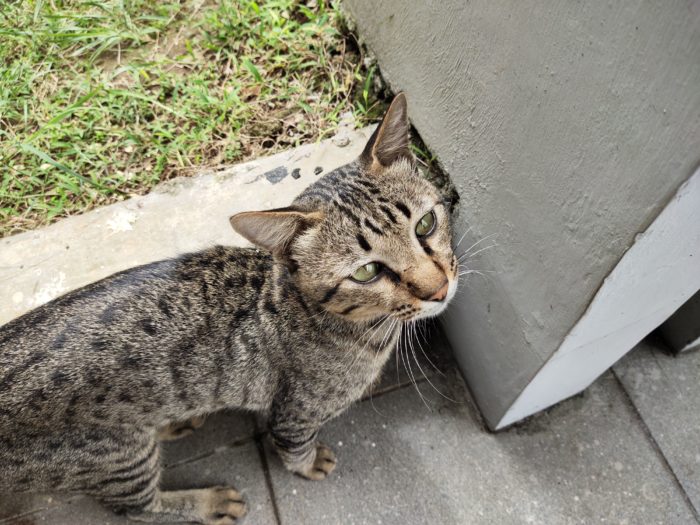 This smartphone's macro camera allows me to photograph objects from close enough to reach 4 cm with details that are still quite obvious. There is also a Night Mode feature that is claimed by the vivo to produce bright night photos.
But when I tried the Night Mode feature, it turned out that the photos were not too different from using Auto Mode at night. You could say the vivo party must improve the ability of Night Mode on the default camera application V19.
This product also carries a front camera with a resolution of 32 MP with the support of Night Selfie Mode which is claimed by vivo to produce bright and clear selfies at night. Indeed, selfie photos during the day are good, but precisely at night conditions there is still noise.
Dari sisi hardware, vivo V19 hadir dengan chipset Qualcomm Snapdragon 675 Octa-Core 2 GHz yang didampingi RAM 8 GB sehingga mampu menangani multitasking dari aplikasi atau game yang dijalankan dengan lancar.
Untuk mengetahui lebih lanjut mengenai performanya, saya menguji vivo V19 dengan menjalankan beberapa game populer mulai dari PUBG Mobile, Free Fire, Arena of Valor, Mobile Legends, Final Fantasy XV Pocket Edition, dan Call of Duty Mobile.
Selain Final Fantasy XV Pocket Edition, kelima game dapat saya jalankan secara lancar dengan menggunakan grafis dan frame rate tinggi. Final Fantasy XV Pocket Edition dapat berjalan dengan lancar apabila menggunakan grafis dan frame rate menengah atau rendah.
Pada pengujian performa menggunakan AnTuTu Benchmark v8.3.0, vivo V19 berhasil mendapatkan skor tinggi 234.955 poin. Sementara pada pengujian Geekbench 4.4.2, smartphone ini mendapatkan skor 2.399 poin untuk Single-Core dan 6.979 untuk Multi-Core.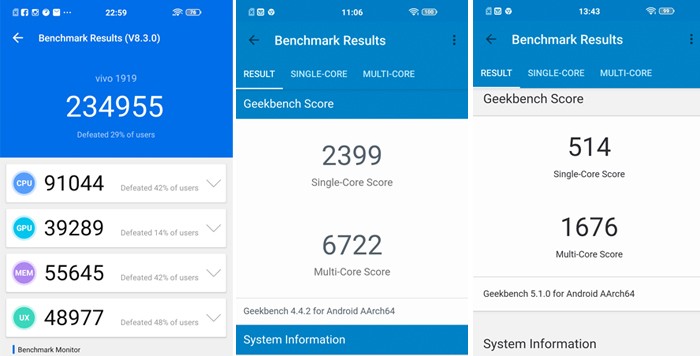 Tak lupa, vivo V19 mendapatkan skor 547 poin untuk Single-Core dan 1.725 poin untuk Multi-Core. Hasil pengujian terhadap game dan aplikasi benchmark memperlihatkan bahwa vivo V19 mempunyai performa yang bertenaga untuk ukuran smartphone dengan chipset kelas menengah.
Di Indonesia vivo V19 yang hadir dengan dua pilihan penyimpanan internal yang terdiri dari 128 GB dan 256 GB. Kebetulan saya mendapatkan vivo V19 dengan kapasitas yang paling lega mencapai 256 GB.
Dengan kapasitas sebesar itu, saya dapat menyimpan banyak game, aplikasi, musik, video, dan dokumen sekaligus. Meskipun sangat besar, namun vivo tetap menyediakan opsi slot microSD untuk memperluas kapasitas penyimpanan.
Baterai 4.500mAh dipercaya untuk menjadi pusat energi dari vivo V19. Pada saat saya mengujinya menggunakan PC Mark for Android dengan kondisi baterai dari 100% dan tingkat kecerahan layar 50%, smartphone ini mendapatkan skor 11 jam 11 menit.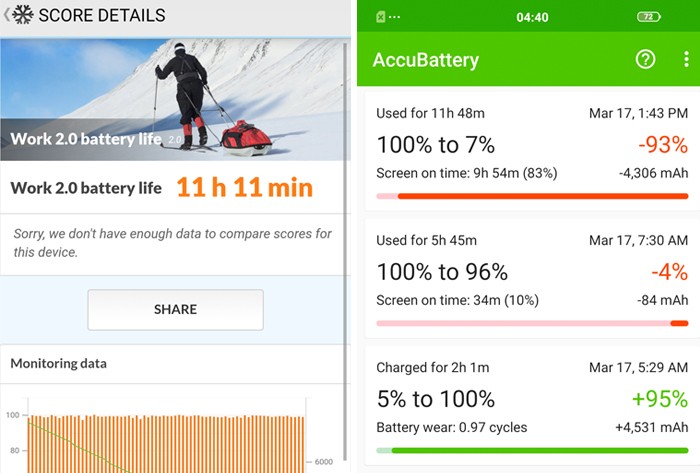 ketika saya menggunakannya dalam aktivitas sehari-hari, vivo V19 mampu bertahan selama 11 jam 48 menit dengan Screen-on-Time 9 jam 54 menit. Daya tahan ini bisa dibilang lama mengingat Screen-on-Time yang dimilikinya cukup tinggi.
Berdasarkan pengujian dengan penggunaan sehari-hari dan aplikasi benchmark, baterai vivo V19 mampu bertahan lama. Ditambah lagi terdapat fitur 18W Dual-Engine Fast Charging yang membuat pengisian daya baterai mampu berjalan selama 2 jam 1 menit.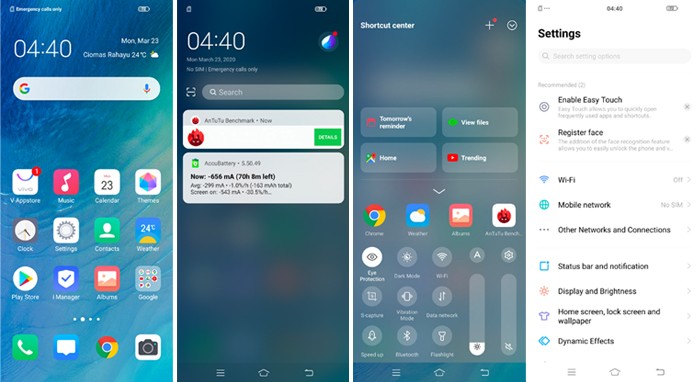 vivo V19 menggunakan sistem antarmuka FunTouchOS 10 yang berbasiskan sistem operasi Android 10. Tampilan antarmukanya sepintas menyerupai iPhone mulai dari ikon, wallpaper, hingga penyajian menunya.
Sebagai pengguna smartphone Android yang biasanya memiliki tampilan menu notifikasi dan Quick Settings menyatu, saya agak kagok ketika menggunakan vivo V19 karena menu notifikasi berada di bagian atas terpisah dengan Quick Settings yang terdapat di bagian bawah.
Namun saya cukup menyukai beberapa fitur Gesture yang dihadirkan pada FunTouchOS 10, seperti menyapu layar dari atas ke bawah dengan menggunakan tiga jari untuk mengaktifkan mode Split-Screen yang memungkinkan dua aplikasi dapat berjalan dalam satu layar sekaligus.
Sementara apabila saya menyapu layar dari bawah ke atas dengan tiga jari, maka secara otomatis akan mengaktifkan fitur Screenshot. Terdapat juga fitur App Clone yang memungkinkan saya dapat menggunakan dua akun media sosial karena aplikasinya dapat digandakan.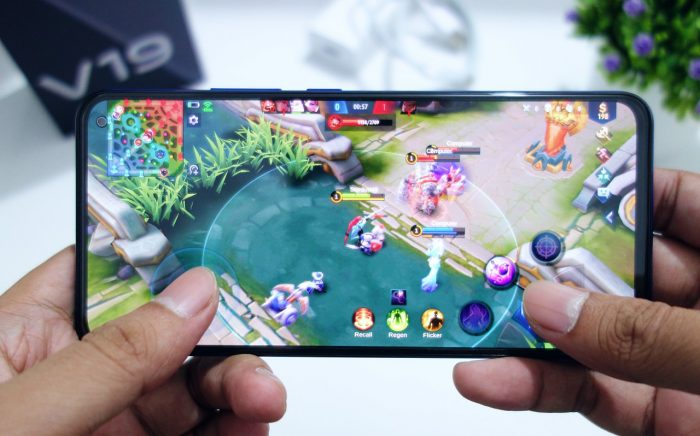 Setelah menggunakannya selama dua minggu, saya merasa puas dalam memakai vivo V19 terutama dengan hadirnya RAM berkapasitas besar yang dapat menjalankan aplikasi secara multitasking dengan lancar.
Penyimpanan internal berkapasitas besar yang hadir pada perangkat ini pun membantu saya untuk menyimpan banyak file yang saya miliki. Daya tahan baterai yang dimilikinya pun bisa dibilang lama.
Meskipun terdapat empat kamera belakang yang mampu menghasilkan foto bagus pada kondisi cahaya cukup atau siang hari, namun vivo harus melakukan peningkatan kualitas foto yang diambil pada malam hari.
Seperti biasanya, vivo mampu menghadirkan sensor fingerprint dan fitur Face Unlock yang responsif serta cepat untuk membuka kunci layar smartphone. Untuk saat ini, vivo  V19 dijual dengan harga yang mencapai Rp 4.299.000 untuk varian 128 GB dan Rp 4.999.000 untuk varian 256 GB.
Sayangnya dengan harga setinggi ini, vivo V19 tidak dilengkapi dengan sensor NFC. Namun kekurangan ini dapat teratasi, jika dilihat dari banyaknya nilai positif yang dimilikinya.