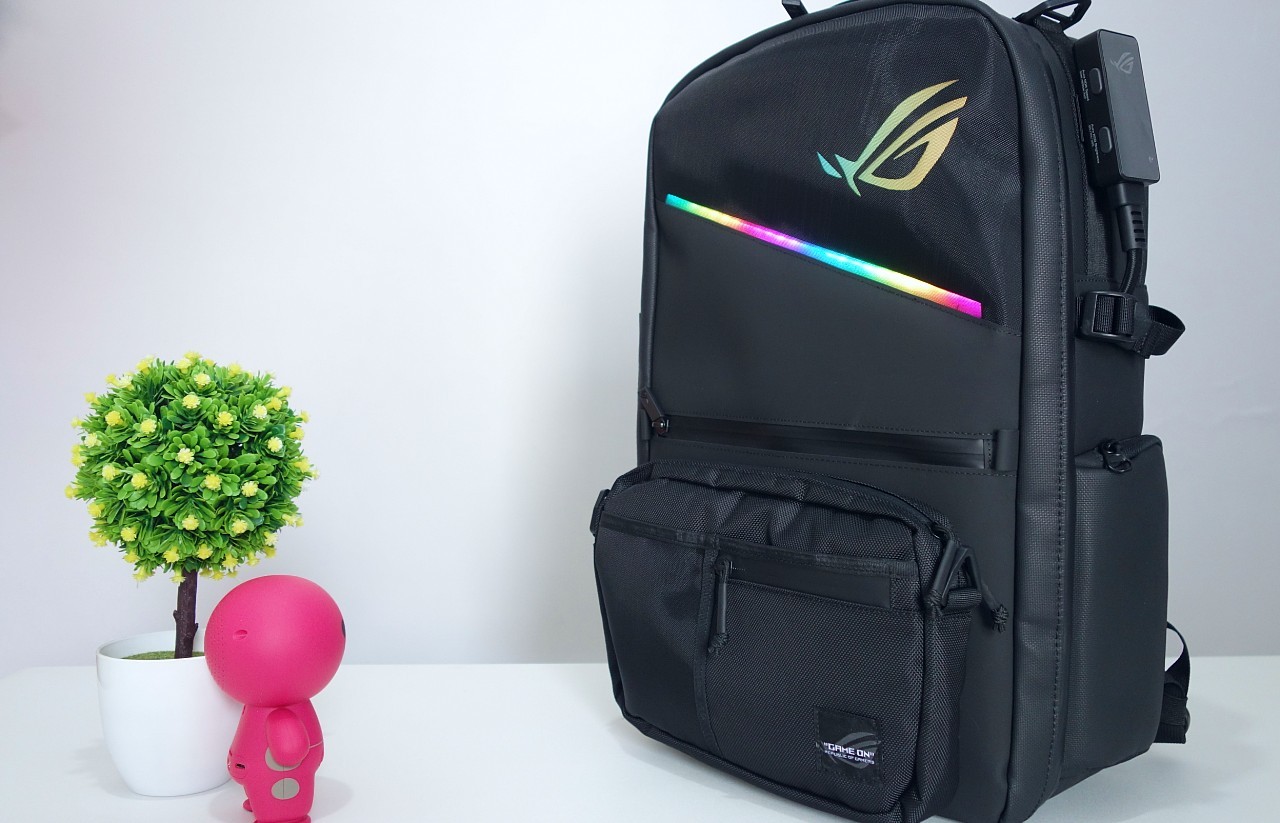 Gadgetren – ASUS Indonesia is not only famous for their computers, but also various gaming accessories that complement it.
Through the Republic of Gamers line, ASUS presents a variety of devices that show the soul of gaming ranging from laptops, headsets, to mice. So that gamers can more easily carry their gaming equipment, ASUS also launched the ROG Ranger BP3703 Gaming Backpack bag.
This gaming bag made by ASUS is priced at almost Rp. 5 million. With such a price tag, what makes it special?
The initial impression that I got when I first saw it was that the ROG Ranger BP3703 Gaming Backpack had a very large size. At first glance, this bag has a thick gamers aura like the Republic of Gamers products from other ASUS.
Carrying the concept of "Gaming", of course there is something different from ROG Ranger BP3703 compared to bags in general or even laptop bags. In one glance, I could immediately find out that this bag was painstakingly made with quality materials.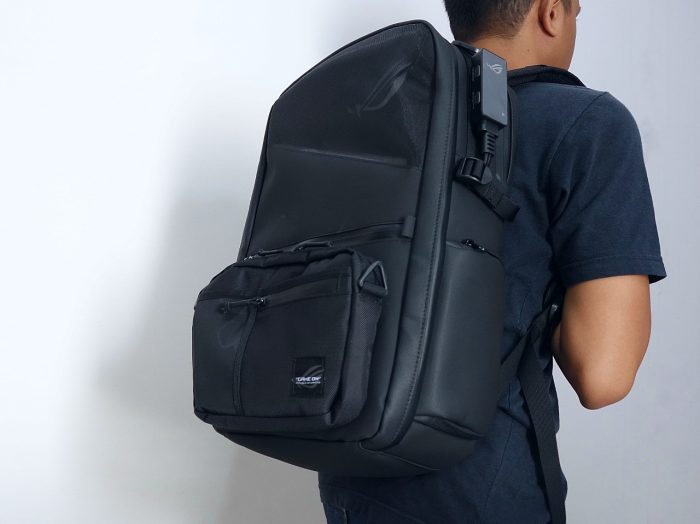 This bag also gives the impression of men really with gamers accents that will make people around turn to look more closely. Dominated by black color with the ROG eye logo on the front, the ROG Ranger BP3703 cannot be denied having gaming characteristics.
But there are two things that instantly caught my attention, besides ROG's eyes, of course, the zipper protector and a device that looked like a remote hanging on the right side.
Every zipper that appears on the outside of this bag has been protected by a cover made of rubber that will keep out the entry of water to small particles that might be able to disturb the zipper lanes.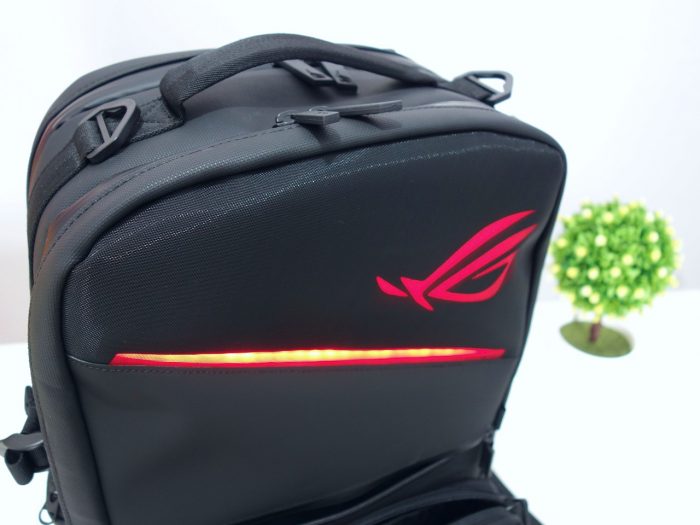 At first glance it looks trivial indeed, but this cover will be very helpful in the long run and shows that ASUS pays attention to every detail, however small, when designing the ROG Ranger BP3703.
Moreover, Indonesia is a country that has a tropical climate where there are only two climates, namely dry and rain, each of which lasts for 6 months. Therefore, this design will be very useful even if it is not felt directly.
Turning to the device that hangs on the right side of the bag, I was initially quite confused as to why the device was outside and what was its function. After reading the manual, I just learned that the device is a remote for adjusting the light from an RGB lamp.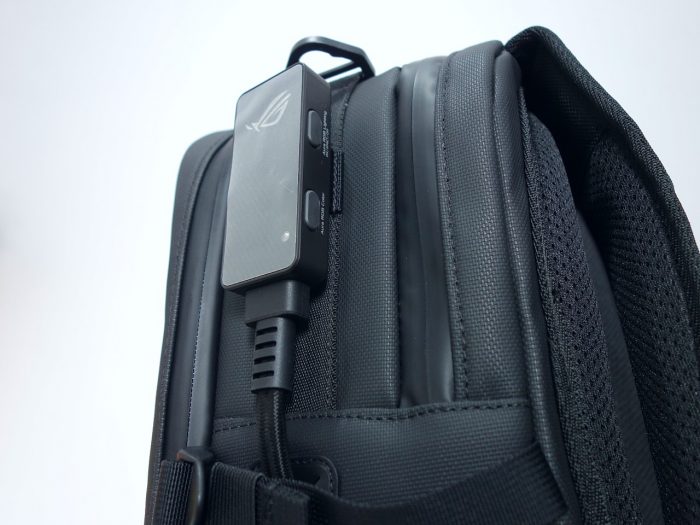 There are various effects that can be chosen starting from Cycle, Static, to Breathing which can be chosen so that it can be adjusted to each personal style. Of course these RGB lights can also be turned off if forced. But RGB you know … so turn it on!
Eits … but wait a minute. To be able to enjoy this feature, you need a power bank to power the RGB lights. ASUS also provides a special bag to put the powerbank. Simply connect it with the cable inside, then the lamp is ready to use.
ASUS step to not install the battery in the bag is very understandable because now flights have limited the maximum capacity that can be carried into the aircraft cabin. Another advantage is that the user can attach a larger battery and replace it periodically if you want the lamp to be on for a long time.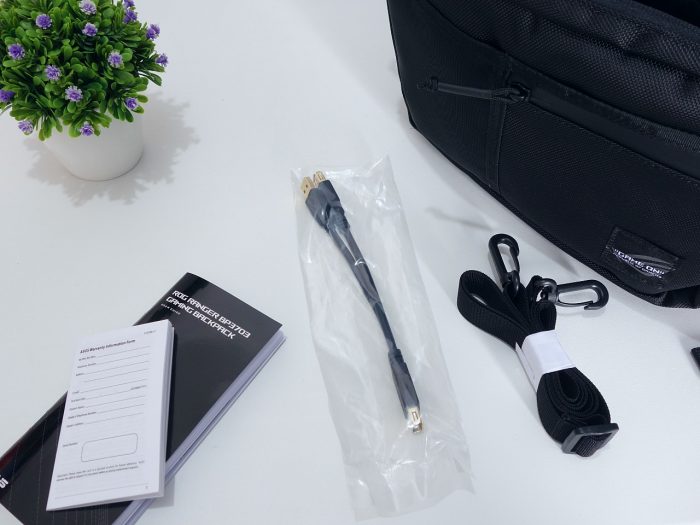 Plus, ASUS also provides a small hole that can be passed by a cable so that users can charge their smartphones or other from outside the bag.
RGB lights are interesting to have, but ASUS hasn't forgotten the overall design of the ROG Ranger BP3703. ASUS manufactures this bag with quality materials that will make the mind calm because it feels sturdy and strong.
Moreover, behind it has been coated waterproof material to protect electronic goods in it as extra security when it gets rained on or other. As a well-known electronics manufacturer, ASUS really understands how valuable the electronic devices stored in it for a gamer by providing multiple layers of security.
Not only security, ASUS also pays attention to the comfort of the bag when used. On the back of the bag and the shoulder strap there is soft foam to ease the pressure when the bag is carried, especially when carrying lots of things.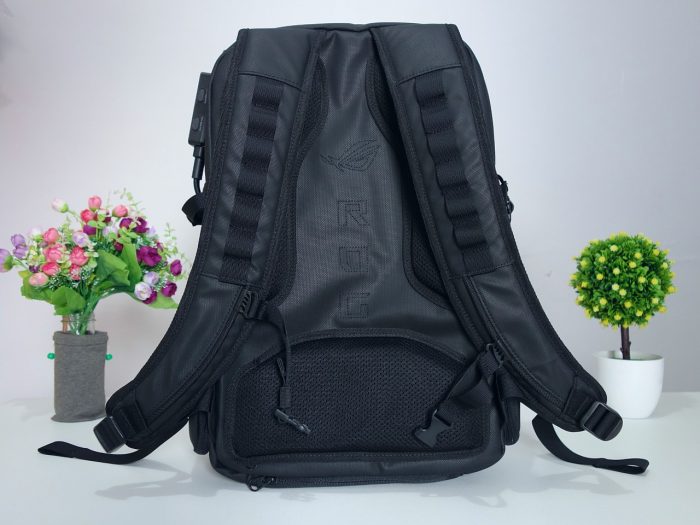 With dimensions reaching 300 x 480 x 170 mm that can accommodate a volume capacity of 20L, of course the ROG Ranger BP3703 can load many devices. Plus this bag has many compartments or separate parts that are provided specifically for storing certain devices.
This bag can store laptops with 17-inch screen sizes and various supporting accessories such as chargers, keyboards, mice and headsets simultaneously and there is still room for other items thereafter to support travel.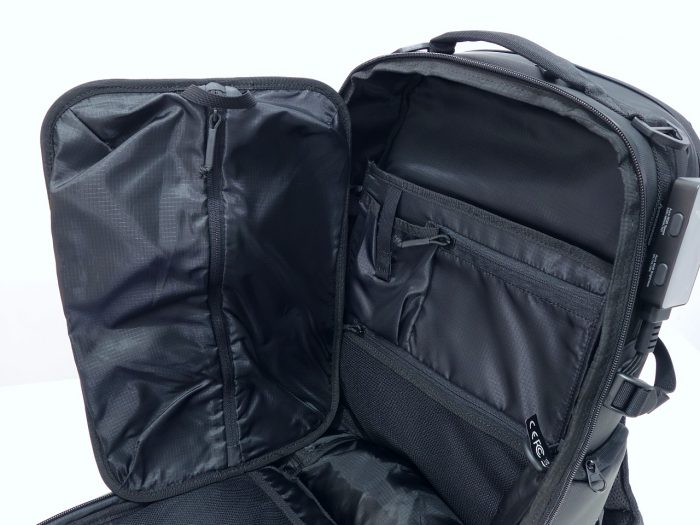 I myself am curious about how many items I can put to the full total. As a result, one folding bag, a 16-inch laptop with a charger, as well as seven smartphones and their boxes can fit into the main compartment.
Not enough? There is still an outer compartment on the side and a removable mini bag on the front. Surely you gamers can store all the war equipment in it easily without the need to bother arranging the placement like playing Tetris because there are already their respective places.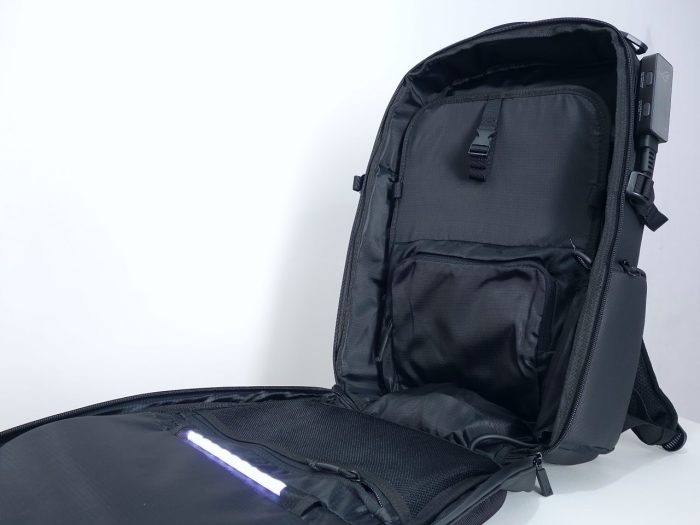 Interestingly, there are long lights that will illuminate the main compartment to help and make it easier to find items in it at night or in dark conditions. A feature that needs to be accepted with open arms.
The most surprising thing, it turns out ASUS still has time to give a special bag at the bottom that has been filled with raincoats. Simply by being pulled out, the bag can be protected even more from splashing water.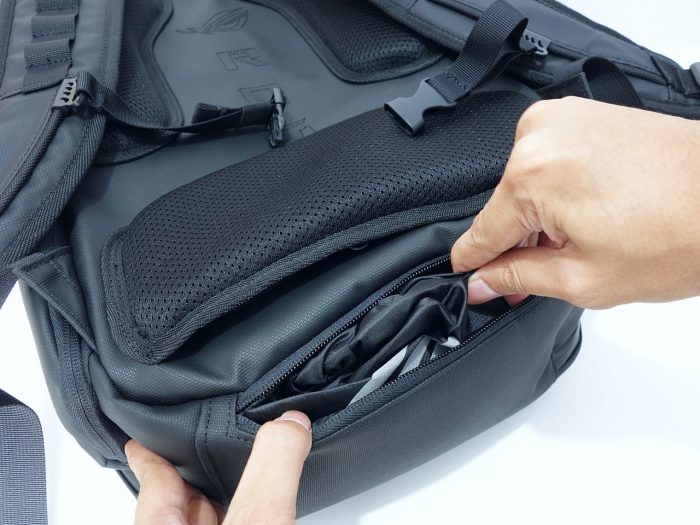 However, this bag seems to have been made specifically for storing electronic goods. Although it can still be used on a daily basis such as school or work well, but this bag I feel is not suitable for traveling that requires carrying items such as clothes or cleaning tools.
Not a big problem because the purpose of the ROG Ranger BP3703 bag is not for that, but as a place to store other gaming or electronic equipment when traveling. Certainly, this bag feels more versatile thanks to the many compartments provided.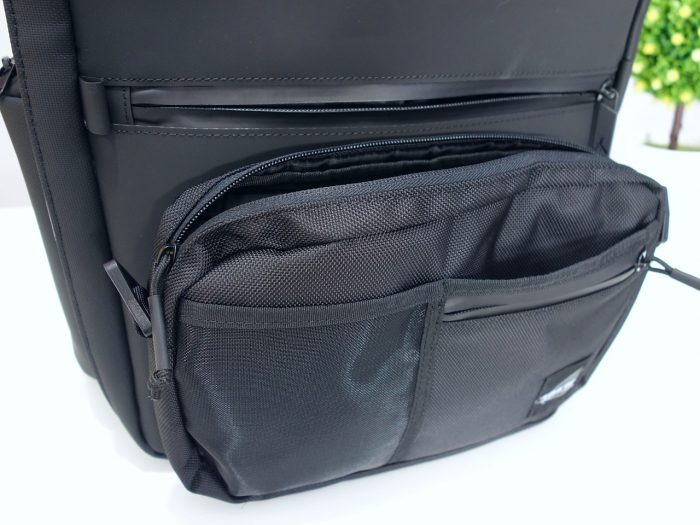 Overall, the ROG Ranger BP3703 Gaming Backpack is a bag designed in such a way as to meet the needs of gamers and is made of sturdy material to ensure its durability in various conditions of use.
The design also truly creates the impression of gamers for anyone who uses it thanks to gaming accents such as ROG eyes and RGB lights that decorate it. Therefore, this bag users might be a little limited because not everyone wants a design that shows the gaming side.
But if you're a gamer who doesn't care about that, then the ROG Ranger BP3703 Gaming Backpack is one of the best gaming bags you can choose from. Basically the ROG Ranger BP3703 is a quality bag so consideration will focus on whether you like the design or not.
Advantages
Made from quality materials
Lots of storage compartments
Protection against layers of water
Have an RGB lamp!
Deficiency
The weight is fairly heavy
Size is large enough for some people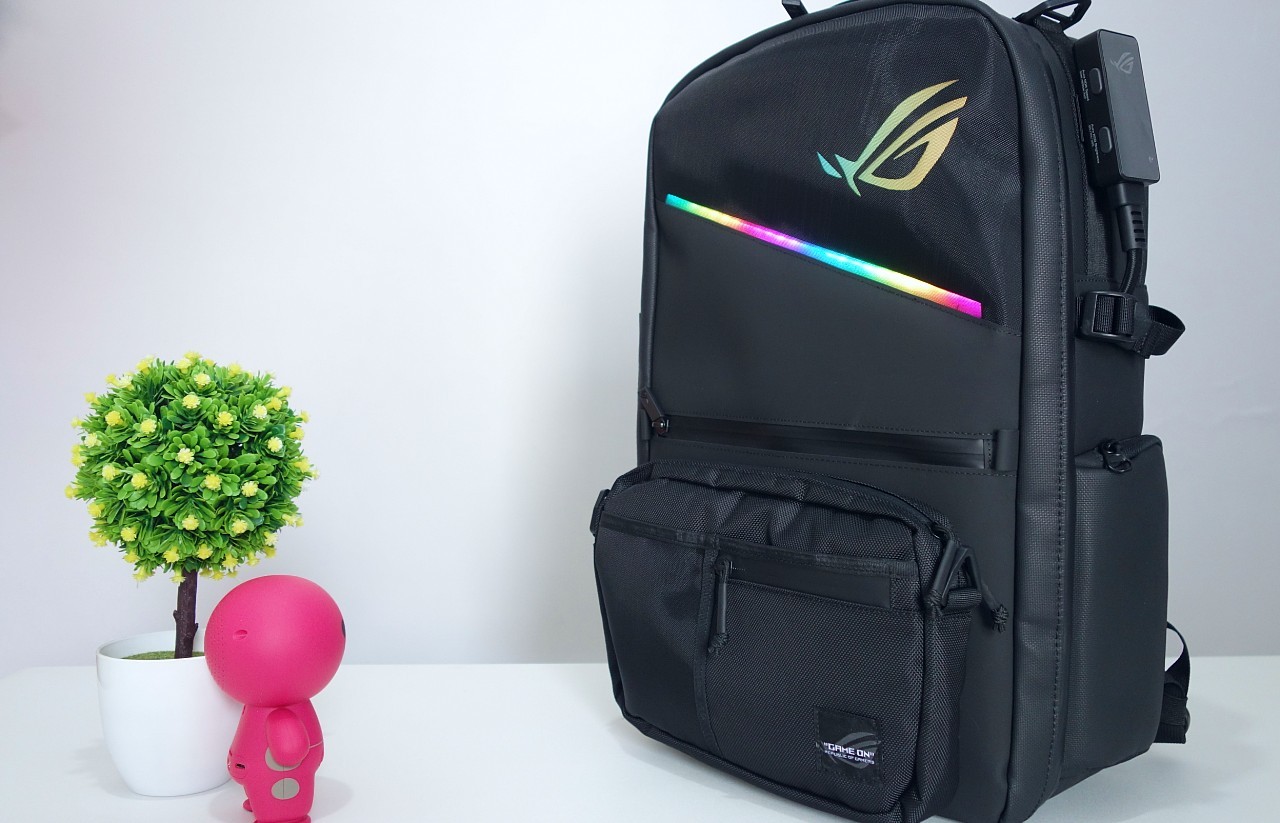 Rating Editor

Rated 5 stars

Spectacular
---
ROG Ranger BP3703 Gaming Backpack

Reviewed by:

Released in: April 1, 2020

Last updated: April 1, 2020
---