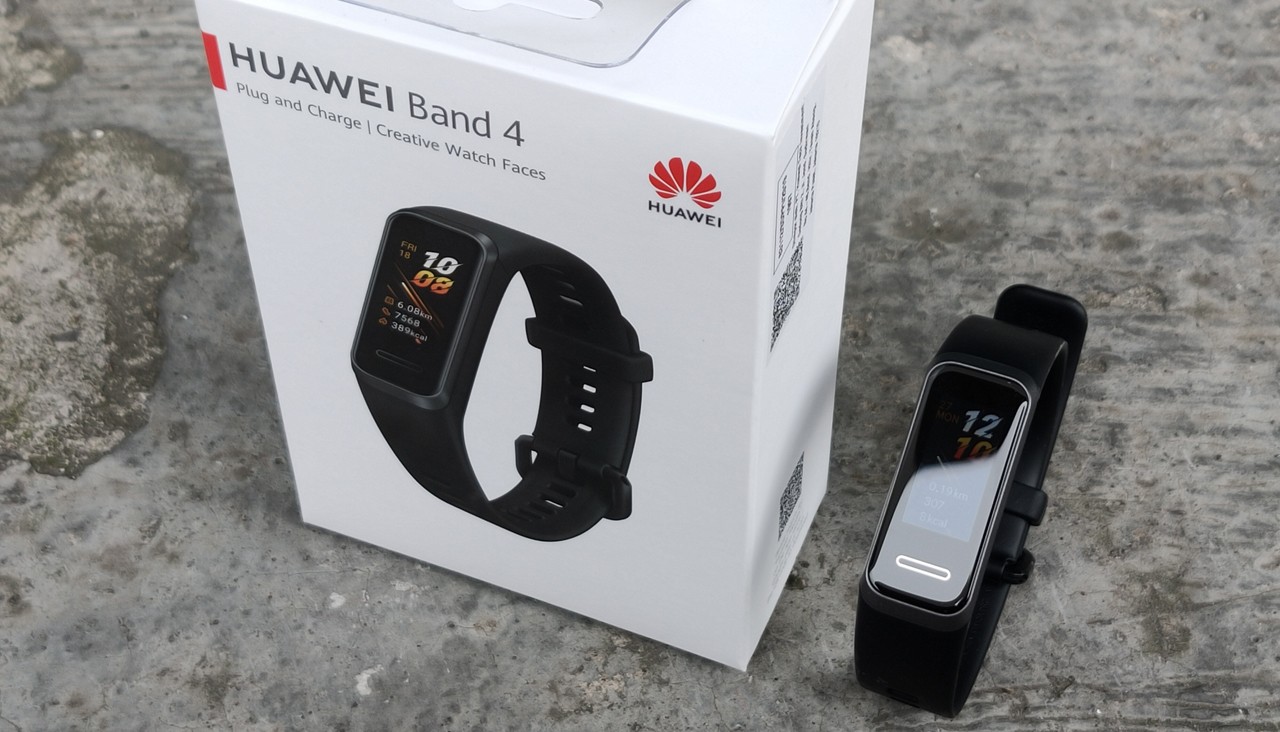 Gadgetren – Seeing the increasingly popular smartband opportunities demanded by many people, Huawei finally launched HUAWEI Band 4 in Indonesia.
This smartband has attractive features and affordable prices under Rp. 500 thousand. Because this one product comes with a color screen in which there are many menus.
Even navigation between menus can be done with the touch of a finger on the HUAWEI Band 4 screen. There are also several modes that can guide and monitor the day's sports activities from this one smartband user.
With the various features contained in it, is HUAWEI Band 4 able to win the hearts of many people and compete with other brands of smartband in Indonesia?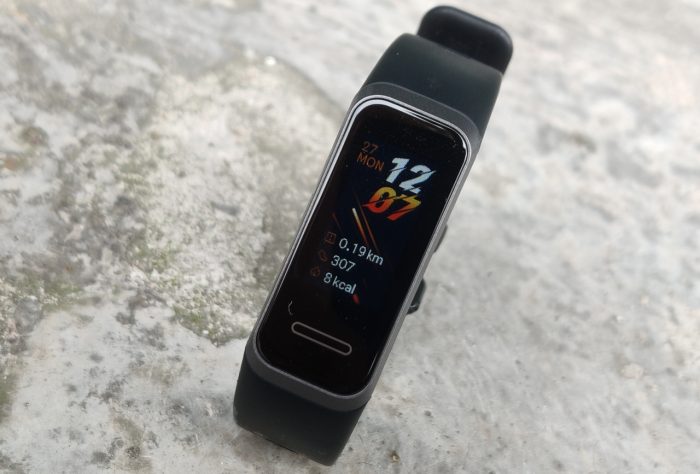 In plain view, I see HUAWEI Band 4 has a stylish and ergonomic design that is tailored to the user's hand. I myself feel comfortable when this product is tied to my wrist like a watch.
Plastic body and silicone rubber strap make this smartband lightweight when used. Huawei itself claims that the weight of the HUAWEI Band 4 (body and strap) reaches 24 grams.
For the body itself has slim dimensions with a size of 56 mm × 18.5 mm × 12.5 mm, while the length of the rope reaches 123 mm (bottom) and 85 mm (top).
On the body or commonly called the core, there is a 0.95-inch color screen with TFT technology and a resolution of 160 x 80 pixels that is comfortable to the eye. Interestingly the content on the screen can still be seen clearly in a variety of conditions, both minimal light and exposed to sunlight.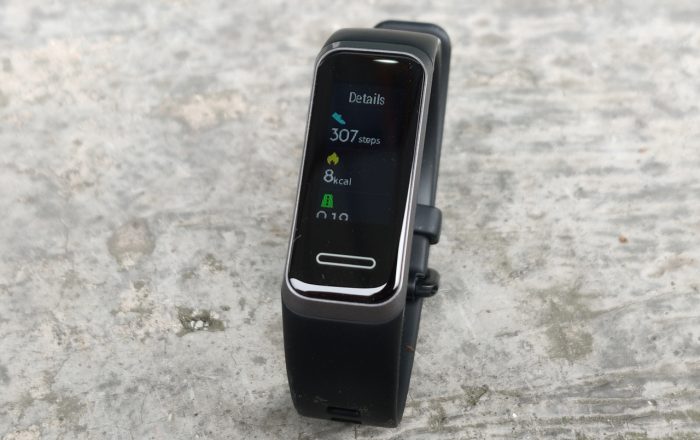 Especially on this smartband there is a menu for adjusting the screen brightness with five levels ranging from dim to very bright. I can also set the screen brightness to automatically be the lowest level at night.
HUAWEI Band 4 can be connected to a smartphone or tablet using a Bluetooth connection and the HUAWEI Health application can be installed on the Google Play Store for Android smartphones or Apple App Store for iOS devices.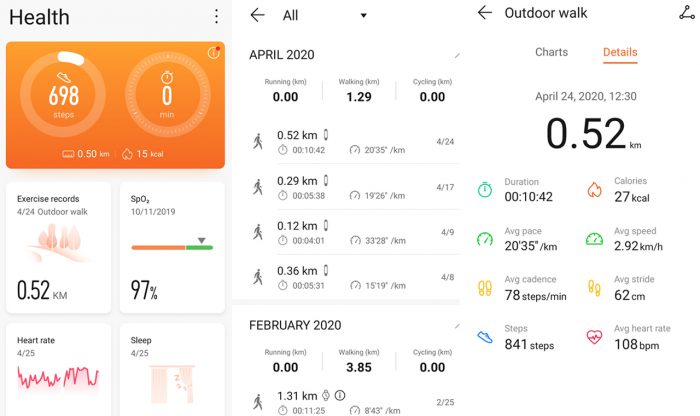 With this application, I can make smartband settings and the latest firmware version. In addition, HUAWEI Health can also be used to view daily activity data such as exercise, sleep, footsteps, and others carried out by users of this product.
Unfortunately, not all smartphones can be connected either with HUAWEI Health because the application will request a HUAWEI Mobile Service (HMS) system update, which sometimes cannot be found on the Google Play Store or Apple App Store.
Just in case, we have to download and install Huawei's app store called AppGallery from Huawei's official website on smartphones. After AppGallery is successfully installed, usually the HUAWEI Mobile Service (HMS) system update will run smoothly and the smartband can connect properly.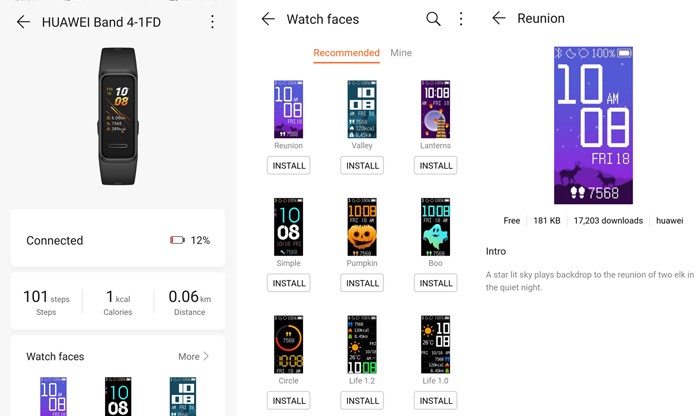 Returning to the screen, HUAWEI Band 4 has a main page that shows the Watch Face or display containing information about the time, date, day, footsteps, calories burned, percentage of battery, and others.
I can select and install various Watch Faces directly from the HUAWEI Health app, but only 6 Watch Faces are allowed to be actively installed on the smartband.
After various Watch Faces are installed, I can change them directly in the application. But I can also choose 6 Watch Face that has been installed directly on the HUAWEI Band 4 screen. When we touch and slide the smartband screen with your finger to the bottom or the top, it will switch menus.
After the menu is determined, then I can immediately press it once to enter the menu. To return to the previous page, I can swipe or swipe the screen with my finger from left to right.
But if I really want to get out of the menu to the main page or watch face, then I can press the rectangular capacity button right below the screen.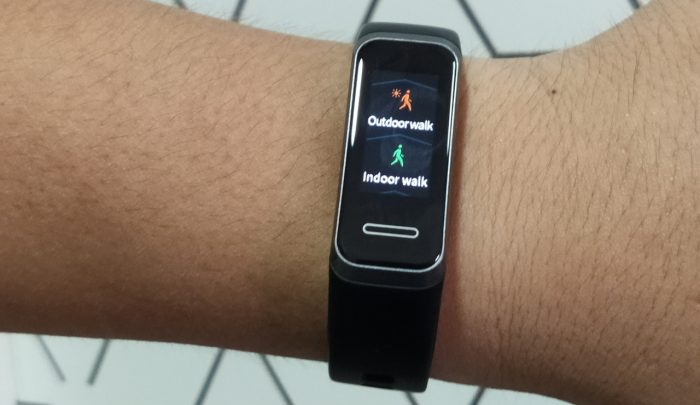 Menus present on this smartband consist of a daily activity gauge, heart rate meter, sleep activity monitor, workout or sports activity with various modes, More or settings, smartphone music player controller, and message notifications.
When I access the daily activity measurement menu, more complete data will appear starting from the number of steps, calories burned, distance traveled, and length of sitting. While the workout menu has several sport modes ranging from Outdoor Run, Indoor Run, Outdoor Walk, Indoor Walk, Indoor Cycle, Elliptical, Rower, and Free Training.
Turning to the back of the body or core HUAWEI Band 4, there is an Infrared Wear sensor and Optical Heart Rate so it can detect heart rates quite accurately. While the accelerometer 3-axis sensor contained in this smartband allows the user's wrist movements to be known.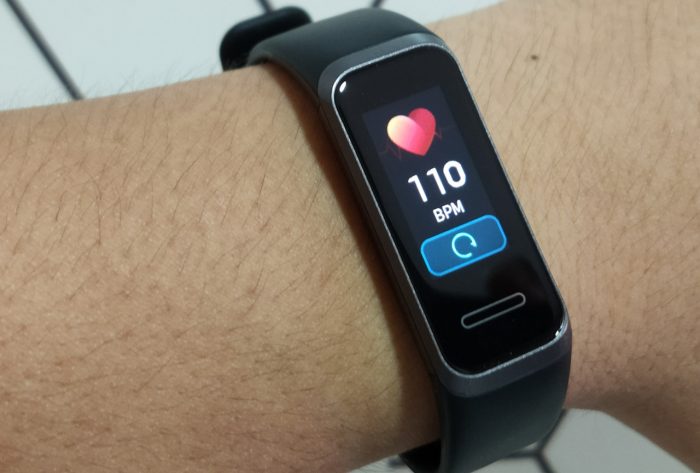 In other words, the resting HUAWEI Band 4 screen will become active when we rotate the wrist. Meanwhile, I can also easily change menus by simply rotating my wrist without having my fingers to touch the screen of this smartband.
The music player controller on this smartband can function if I open the music application on my smartphone first. Furthermore, I only need to do Play, Pause, Next, and Previous music directly from HUAWEI Band 4.
This smartband also has a feature to view phone call notifications and messages from smartphones such as WhatsApp, Facebook, Instagram, Telegram, and many more. To activate and set the notification, I must use the HUAWEI Health application.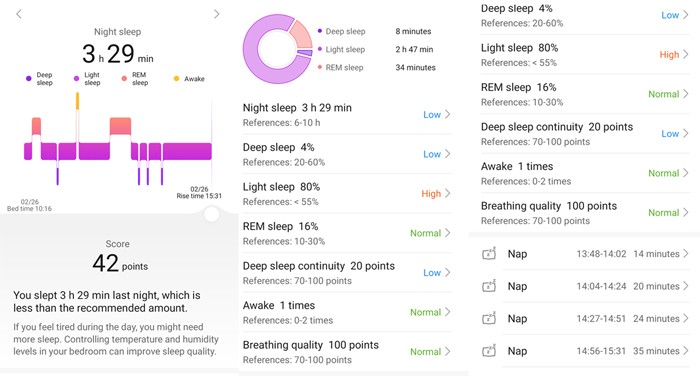 Data from all of these menus can be seen more fully in the HUAWEI Health application. Moreover, I can also see sleep activity that has been detected by HUAWEI Band 4 through this application. The information displayed is in the range of sleep time and percentage of sleep for the quality of Deep Sleep, Light Sleep, and REM Sleep.
From the detected sleep activity, the HUAWEI Health app will analyze and provide suggestions for the best quality sleep. You could say the sleep activity detected by this wearable device is quite accurate because it uses HUAWEI TruSleep technology.
This technology allows smartband and applications to monitor the user's heart rate smartly. Even if HUAWEI Band 4 is not being used, then HUAWEI TruSleep will not detect sleep at all.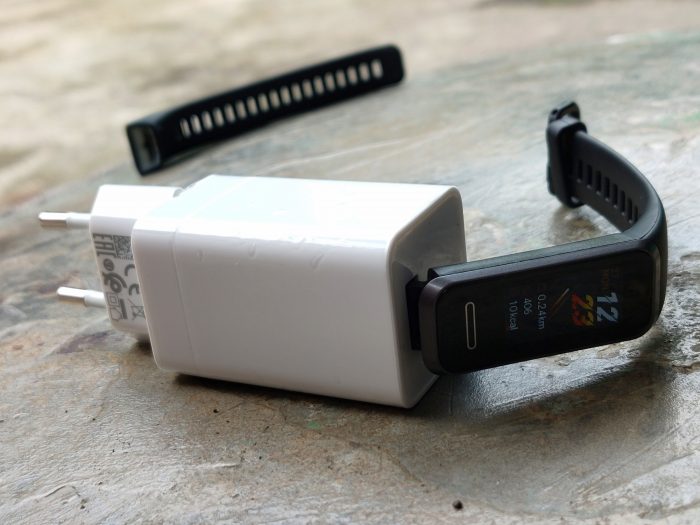 During daily activities, HUAWEI Band 4 can last for 2 weeks under normal use. Even when charging the battery only takes 1 hour 45 minutes. To charge the battery, I can use the USB port inside the strap or strap at the bottom of the smartband screen.
I only need to press the hook and pull the straps at the bottom of this product screen. If the USB port is open, then I only need to plug it in the smartphone charger adapter that is owned.
For this reason, Huawei only included a warranty card and manual on the HUAWEI Band 4 sales package. This made it easier for me to charge the battery on this smartband without the need to carry additional cables or docks.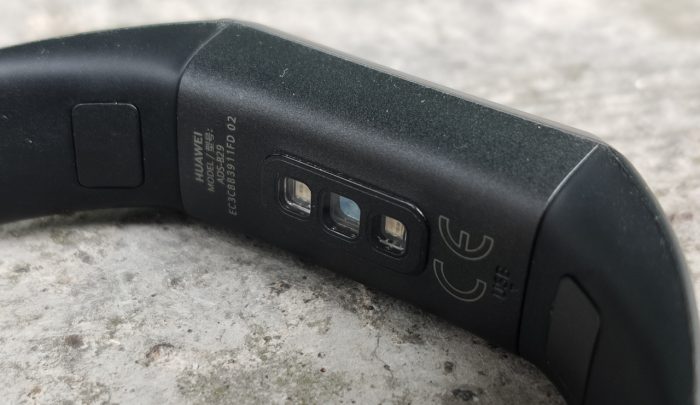 Although Huawei claims that this product can survive in fresh water up to 5 ATMs or 50 meters, but the Workout menu is not available for water sports exercises such as swimming, water polo, and others.
You could say the design, features, battery life, and activity gauges offered by this smartband are interesting. While the official price when it was first launched in Indonesia reached Rp 449,000.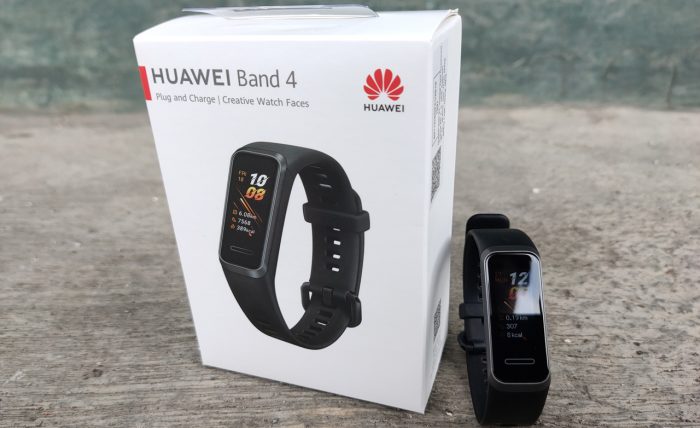 But there are already many official online partner stores that offer cheaper prices in the range of Rp. 369,000 to Rp. 389,000. With this price offered, HUAWEI Band 4 Pro is able to compete with products in the same price class.
Advantages
Color and responsive screen
There is a good gauge of sleep activity
Sports activity monitor
Long battery life
Support fresh water resistance to a depth of 50 meters
Deficiency
There is no GPS
There is no SpO2 monitor feature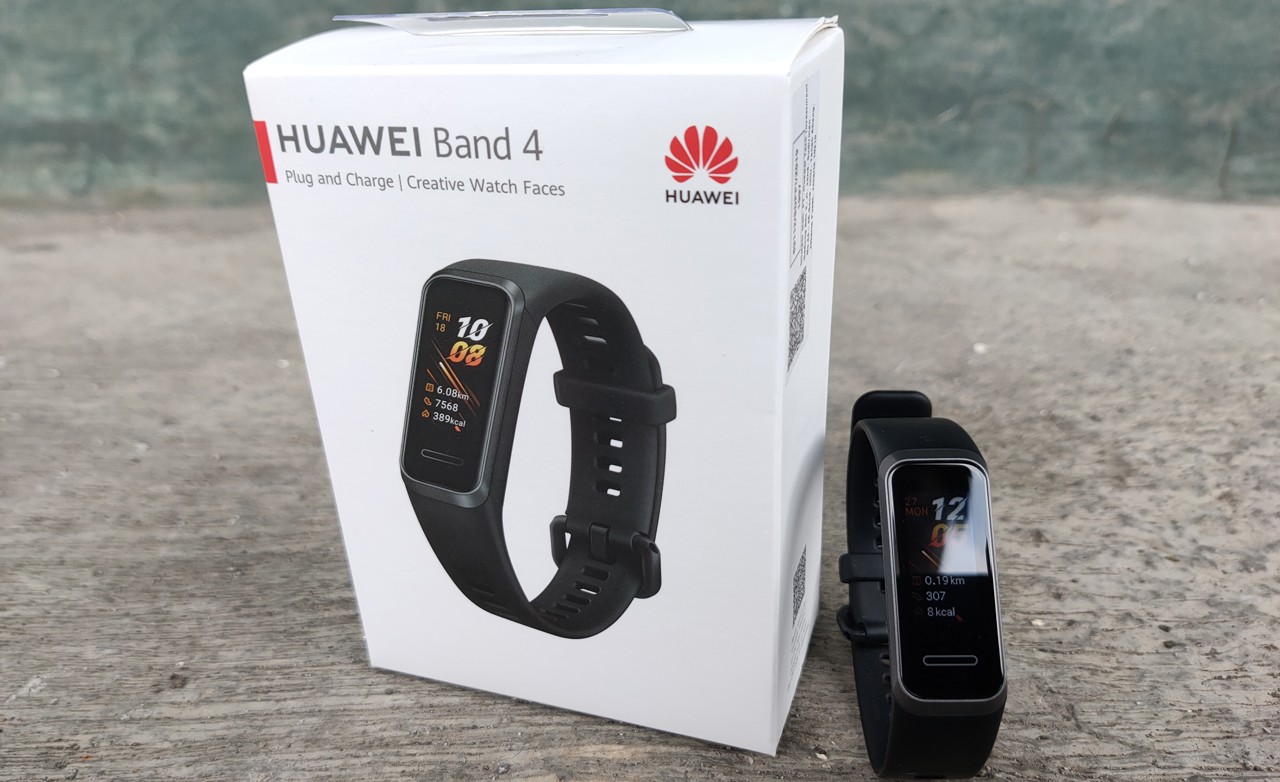 Rating Editor

Rated 4.5 stars

Outstanding
---
HUAWEI Band 4

Reviewed by:

Released in: April 27, 2020

Last updated: April 27, 2020
---