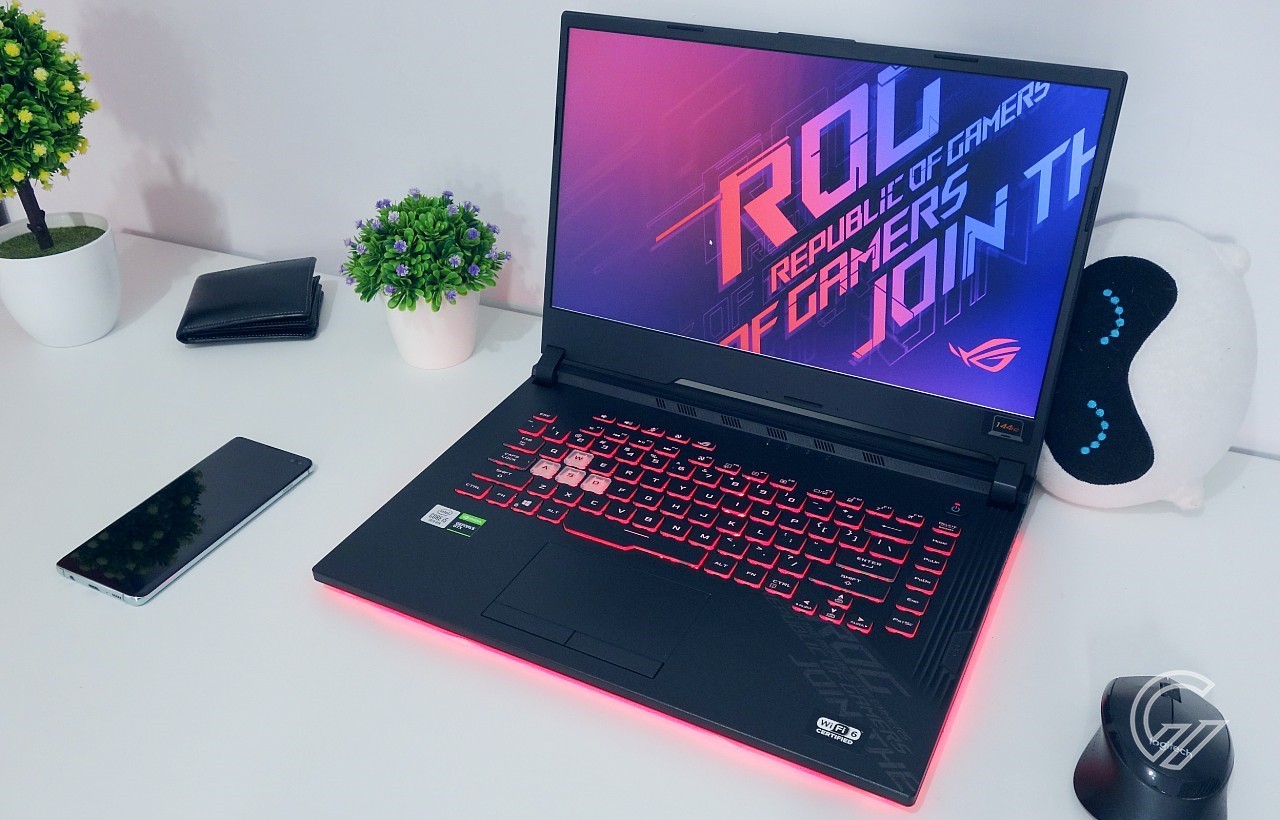 Gadgetren – ASUS has given a refresher on the ROG Strix G15 gaming laptop line which now carries the latest generation specifications.
ASUS ROG Strix G15 G512LI comes with a charming design like a sports car with various curves and a striking heat dissipation area. It's no surprise that ASUS collaborated with the BMW Designworks Group to create an asymmetrical and professional design while giving off a gamer aura.
In the cross section there is a brushed metal finish texture accent that divides the two areas as well as the ROG eye which has become the hallmark of this line of gaming laptops from ASUS. Unfortunately the ROG's eyes cannot light up at all but instead are coated in highly reflective chrome.
Overall the body is made of plastic which feels very sturdy. ASUS ROG Strix G15 G512LI has dimensions with a relatively large profile so it is necessary to consider the size whether it fits into a bag or not.
But it cannot be denied that the RGB lights that surround the underside of the body look really cool, especially when the laptop is used in a dark room. In addition, the red accent in the exhaust gives its own taste.
Targeting gamers, this laptop does not provide a port at all on the right side so that the mouse can be moved more freely. Interestingly, there is an area that reads Strix which previously was the place for Keystone for several models such as Strix Scar III.
While on the left side there are three USB-A 3.2 (GEN1) ports and a 3.5mm audio combo jack. The remaining ports are embedded in the back of the body, between the two exhausts, which consist of HDMI 2.0b, RJ45 LAN Jack, USB-C 3.2 (GEN2) which supports external displays, and DC Power.
The decision to pin these ports on the back is the right step because it will minimize cable traffic so you can play games with more focus and have more space when using an additional mouse.
When opening the cross section of this laptop, I was immediately presented with a large screen and RGB flashing keyboard. The screen is surrounded by a thin bezel which makes it look wider. However, the bottom bezel is still thick enough to accommodate the size of the keyboard.
The screen itself has a span of 15.6 inches with Full HD resolution of 1920 x 1080 pixels which has 100% sRGB color coverage and a refresh rate of 144Hz. In addition, the screen has also been coated with anti-glare to minimize light reflection.
Therefore, the ROG Strix G15 G512LI screen is not only capable of displaying charming images with bright colors but also producing much smoother animated movements thanks to the high refresh rate.
Combined with the speakers firing sound on both sides of the laptop with good quality and loudness, the ROG Strix G15 G512LI is able to provide a satisfying entertainment experience.
Below the screen, there is a keyboard with RGB backlit and a separate white WASD button that is presented as visual navigation when playing games, especially in dark rooms. Each button feels comfortable for playing games and productivity activities like typing.
While the touchpad is quite spacious with a smooth coating that makes it easy for fingers to move along and two separate physical buttons for right and left clicks.
About the kitchen spur, the performance of the ROG Strix G15 G512LI in playing doesn't need to be questioned anymore. Powered by an Intel Core i5-10300H processor which has 4 Cores and 8 Threads, NVIDIA GeForce GTX 1650 Ti with 4GB of GDDR6 VRAM, and 8GB of RAM makes the ASUS ROG Strix G15 ready to bulldoze the various games you want.
In addition, the internal storage uses a 512GB NMVe SSD solution to provide a very responsive operating system experience and a much shorter loading time.
Overall, ROG Strix G15 G512LI is very comfortable to use for general activities such as typing or enjoying entertainment content. Navigating the system also feels very smooth and there is never any lag.
But by bearing the name Republic of Gamers, of course what you want to know is how his ability to run games is not it?
As an opening, I also tried to play Counter Strike: Global Offensive as a representative of the Esport game which is quite popular and is still popular today. Using maximum graphics, I was able to get a constant above 100fps.
To be able to take full advantage of the screen capabilities, I still have to reduce the graphics quality a little from CS: GO. But it pays off with much smoother movements and visuals and commands feel more responsive.
In the Shadow of Tomb Raider game with the Highest preset graphic quality and native resolution, this gaming laptop from ASUS managed to get an average of 47fps with a maximum of 70fps. A high enough number for a AAA class game with very detailed graphics.
Interestingly, the cooling fan of the ROG Strix G15 G512LI is not too noisy when compared to some other gaming laptops, even when gaming is heavy and using the Turbo profile though. The surface of the keyboard doesn't feel too hot after being used for a long gaming session.
Indeed, the fan sound is still quite audible, but it is still very understandable. Moreover, the temperature of the CPU and GPU is still relatively safe at full load in a room without air conditioning so that it successfully cools the components well.
To adjust the fan speed level, there is a fan button along with the Armory Crate button above the function keys. That way, these features can be accessed quickly when needed.
Just like other ROG gaming laptops, ROG Strix G15 G512LI is also equipped with various software support, from Armory Crate as a control center, Game Visual, to Aura Creator. Plus there is Wi-Fi 6 support with ROG RangeBoost to provide better wireless network stability.
For a gaming laptop, the ROG Strix G15 G512LI surprisingly has a battery life that is relatively above average. When the battery was tested from full condition using PCMark 8 Work with a screen brightness level of 50% and all the RGB lights were on, this laptop managed to score 2 hours 54 minutes.
Given the large amount of RGB lighting and its performance, the battery life is sufficient. Of course, if you want a longer battery, you can turn off the RGB lighting through Armory Crate.
Meanwhile, for charging it takes about 1 hour 34 minutes using a relatively medium size 120W adapter. A figure that is still quite reasonable for a gaming laptop.
Overall, the ASUS ROG Strix G15 G512LI is a capable gaming laptop that can enhance your gaming experience even further. A charming screen and high performance are the main attractions of this laptop so it is suitable for those of you who often play games competitively.
The size is indeed large and maybe you have to readjust the space in the bag a little, but for those of you who want a smooth gaming experience whenever and wherever, then the ASUS ROG Strix G15 G512LI deserves to be an option.
Advantages
Fast performance for AAA gaming
Beautiful display with 144Hz support
Trendy and stylish design
Comfortable keyboard and touchpad
The body feels solid
Deficiency
No webcam
Relatively large body dimensions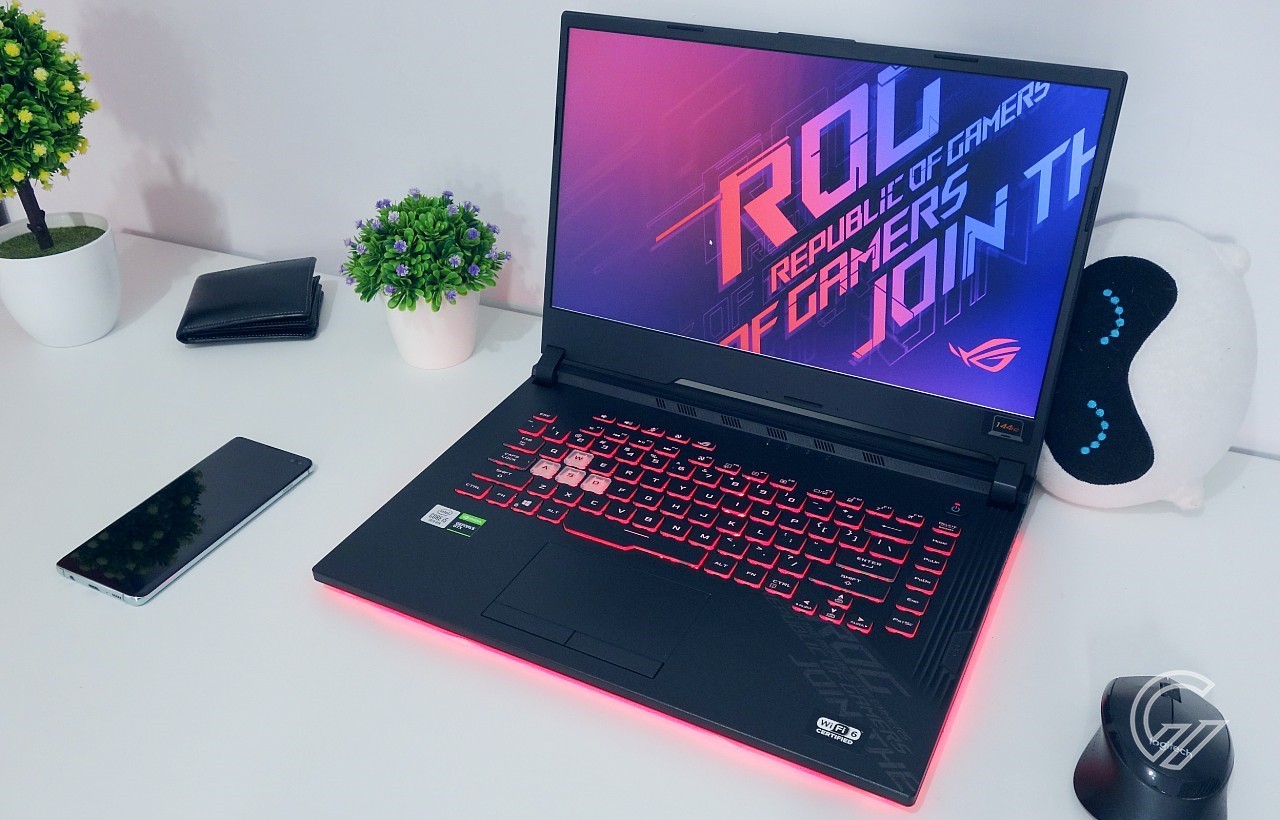 Rating Editor

Rated 4.5 stars

Outstanding
---
ASUS ROG Strix G15 G512LI

Reviewed by:

Released in: August 19, 2020

Last updated: August 19, 2020
---