Gadgetren – POCO X3 NFC has successfully hit the middle class mobile phone market in Indonesia and stole the attention of various circles.
How not, the POCO X3 NFC offers a very competitive price with quite high specifications. In Indonesia alone, the POCO X3 NFC is available in two variants, which include Rp. 3,099,000 for the 6GB RAM variant and Rp. 3,499,000 for the 8GB RAM variant.
What makes the POCO X3 NFC so tantalizing? The following is the review from the Gadgetren team.
POCO X3 NFC
Screen –

8/10

Performance –

9/10

Camera –

8/10

Battery –

10/10

Software –

7/10

Design –

7/10
8.2 / 10
Conclusion
POCO X3 NFC is a mobile phone that will satisfy many circles. High performance with long battery life is the main strength of this mobile phone. But that doesn't mean this phone is without flaws.
Pros
Fast performance for gaming
Very long battery life
120Hz Full HD display
NFC, IR Blaster, and USB-C
The camera is adequate
Cons
Weak vibration system
Lots of bloatware
DynamicSwitch cannot be turned off
POCO X3 NFC comes with a different design compared to most other middle class cellphones. Available in Shadow Gray and Cobalt Blue colors, the back of the POCO X3 NFC has a design that reminds me of sports cars, where there is a stripe pattern with POCO writing on one of them.
Its camera module is also unique. When other cellphones have a square or city-shaped camera module on the top left side, POCO X3 NFC instead chooses to present an oval-shaped camera module in the middle with lenses and LED lights scattered across five points.
This module has a more futuristic impression and further supports the sporty design it provides. However, the camera module sticks out enough that it will hit the bottom of the table or a little hassle when putting it in the pocket of the jeans because it easily snagged.
Fortunately Xiaomi has provided an anti-bacterial case in the sales package that can be attached directly to make the back surface evenly distributed while providing more protection from collisions or other things.
Talking back about the design, the POCO X3 NFC has a curved edge that makes it a little more comfortable to hold despite its large size. It's just that, the polycarbonate material that covers the back feels quite thin. This also causes the vibration effect to feel harsher compared to other cellphones.
The good news is that the cut in the body material allows the POCO X3 NFC to have complete contemporary features, starting from the USB Type-C port, IR Blaster, fingerprint scanner sensor on the power button, and two card slots (one SIM card slot and one hybrid slot).
The POCO X3 NFC also has a 6.67 inch screen which is one of the reasons why the overall body is quite large. This of course will affect comfort because it will be more difficult for some people to grasp.
It is quite difficult for me to reach all sides of the screen so I often have to use two hands or change the grip position to be able to navigate the POCO X3 NFC.
On the bright side, the big screen certainly affects satisfaction when consuming entertainment content. Moreover, the DotDisplay design that is owned provides a punch hole and thin bezel to give a wider impression when consuming visual content.
The screen itself is capable of displaying images in Full HD + resolution of 2400 x 1080 pixels with a screen-to-body ratio of 91.25% and is equipped with a TUV Rheinland certificate. As a result, the visual experience presented is quite comfortable with sharp details.
However, the main strength of the POCO X3 NFC screen is not only there but also the support for 120Hz refresh rate and 240Hz touch sampling rate which will make the user experience, especially playing games, more satisfying.
A high refresh rate will cause motion or animation to appear smoother, while a high touch sampling rate will make every finger touch to the screen respond more quickly.
There are two refresh rate settings that can be used, namely 60Hz and 120Hz. Xiaomi has also embedded a feature called DynamicSwitch which will automatically adjust the refresh rate to 50Hz, 60Hz, 90Hz, and 120Hz according to the content that appears to save battery power consumption.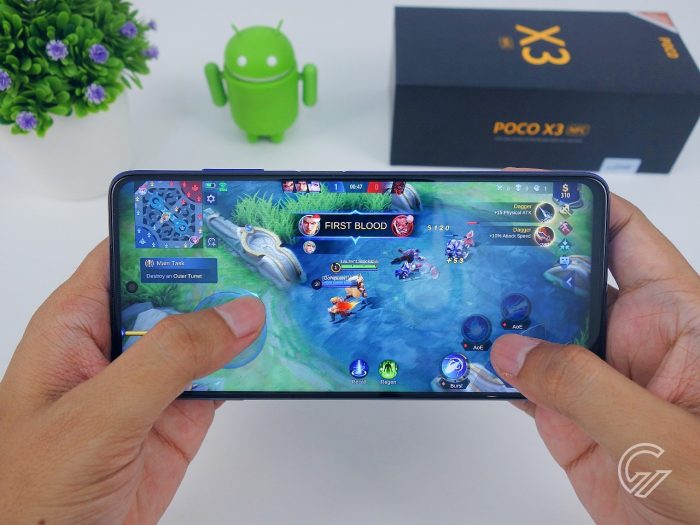 However, there is no option to turn off the DynamicSwitch feature manually so the 120Hz experience is "unreal" in quotes. Why? This is because there are often stutter or short pauses when the refresh rate changes, which certainly reduces comfort.
In fact, sometimes it is enough to feel the change from 60Hz to 120Hz which actually makes the experience awkward. Plus I also can't confirm whether the screen is running at 120Hz or not when I want to enjoy it at that high refresh rate.
Even though I understand the reason why Xiaomi forces the DynamicSwitch feature to always be active, hopefully there will be a setting to turn it off in a future firmware update. It's a shame if POCO X3 NFC users cannot enjoy the maximum and constant 120Hz experience considering the kitchen runway they have.
Running POCO Launcher 2.0 which is a further modification of MIUI 12, POCO X3 NFC is equipped with many features that can be used such as night mode, Mi share, and others. Moreover, NFC support allows more things to be done.
For you Xiaomi device users, you will immediately be familiar with the interface of the POCO X3 NFC. Unfortunately, POCO Launcher 2.0 has a lot of bloatware which may be annoying for some users.
In terms of performance, the POCO X3 NFC is equipped with a Qualcomm Snapdragon 732G chipset which is specially designed for gaming needs via 8nm process technology and has eight cores with a speed of 2.3GHz.
To compensate for the chipset's capabilities, the POCO X3 NFC I reviewed is equipped with 8GB of LPPDDR4X RAM and 128GB of UFS 2.1 storage. Meanwhile, the other variants offer 6GB RAM and 64GB storage.
With these specifications, the POCO X3 NFC 8GB RAM variant managed to get an AnTuTu score of 270,241 points. While on Geekbench 5, POCO X3 NFC won 566 points for Single-Core and 1,628 points for Multi-Core.
This figure shows that the POCO X3 NFC does have very competitive performance for middle-class smartphones. The AnTuTu score is more or less equivalent to Xiaomi Redmi Note 9 Pro and Xiaomi Mi Note 10 Pro according to the testing that the Gadgetren team has done before.
Therefore, it doesn't work if the POCO X3 NFC is able to run various applications and games quite smoothly when I try it. In the Mobile Legends game, I can activate High graphics with HFR mode and all active effects without any problems.
Likewise, when playing heavier games like Free Fire where POCO X3 NFC can run it on Ultra graphics settings with High Frame Rate smoothly until the game ends.
The combination of LiquidCool 1.0 Plus technology and Game Turbo 3.0 allows the POCO X3 NFC to have high performance and still feels cool in the hand when played games for a long time. POCO X3 NFC has proven that middle-class mobile phones can provide tough performance.
So that users can play games or use POCO X3 NFC for a full day, Xiaomi immerses a 5,160mAh capacity battery in it. With such a large battery, of course the POCO X3 NFC will be able to easily meet the daily needs of its users.
When tested running the PCMark For Android application at a screen brightness level of 50%, POCO X3 NFC managed to get 15 hours 31 minutes for 60Hz screen settings and 16 hours 19 minutes for 120Hz screen settings.
Not only does it have long battery life, but POCO X3 NFC also has fast charging capabilities thanks to 33W Fast Charging technology. Xiaomi predicts that the battery can be charged up to 62% in 30 minutes or 100% in 65 minutes.
When tested, POCO X3 NFC was able to charge from 19% to 63% in 27 minutes while from 19% to 100% took about 1 hour 14 minutes. It is quite fast considering the battery capacity which reaches 5,160mAh.
The POCO X3 NFC is without a doubt a solid battery and charging capability. Even when used to play Free Fire at the highest possible setting, the POCO X3 NFC battery only drains about 12% after 1 hour.
Turning to the photography segment, POCO X3 NFC also offers the ability that is no less interesting in terms of capturing important moments or sharing fun on social media through its camera line.
On the back is a Quad Camera which has a 64MP main lens configuration with a Sony IMX 682 sensor, a 13MP ultra-wide angle lens, a 2MP depth lens, and a 2MP macro lens. While on the front there is a 20MP AI Selfie lens.
As a middle-class cellphone, the camera configuration looks quite promising. Moreover, the main lens already uses the Sony IMX 682 sensor to produce clearer photos.
How is the result? Here are some sample photos I took using the POCO X3 NFC.
The main camera of the POCO X3 NFC produces photos that have bright colors and details that can be captured well with a controlled exposure level. Both Auto and 64MP modes look good and there is no significant difference other than the size of the larger resolution.
Likewise during night photography, where Auto and Night modes are able to produce photos that are bright, clear, and have minimal noise. Even the glow can be isolated well even in Auto mode. It feels like Night mode only needs to be used when conditions are really dark with very minimal light sources because Auto mode is sufficient.
Macro
Admittedly, the macro photo of the POCO X3 NFC looks very good and clear without any annoying effects that often appear on other cellphones. While Ultra Wide-angle photos also have a quality that is not much different from Auto mode, but the colors are slightly faded. Of course, these two modes are very sufficient for uploading to social media.
You selfie lovers will certainly not be disappointed with the front camera that is owned by POCO X3 NFC. Selfies look sharp with every detail well captured. The bokeh effect provided also looks natural and neat, giving it a more professional impression.
Overall the POCO X3 NFC is a mobile phone that will satisfy many circles. High performance with long battery life is the main strength of this mobile phone.
Not to mention that the screen that supports a 120Hz refresh rate is very rare to find in this price range. Even so, POCO X3 NFC is not without drawbacks because there are several segments that can be improved such as vibration quality.
To be sure, the POCO X3 NFC is very tempting for middle-class cellphones, especially thanks to the very attractive price.