#kamisukareview – Choosing an iPhone isn't easy. Moreover, every year the newest generation appears. Look Apple iPhone 11 vs iPhone 12, if you compare the specifications and prices between these two series, buyers will think again and again, especially since the prices of these two smartphones are indeed high.
As is known, the giant technology manufacturer from the United States, Apple has just launched their latest product in an online event on Wednesday (14/10).
Apple officially announced their latest flagship product in the iPhone 12 series by launching four variants at once, consisting of the "regular" iPhone 12, iPhone 12 mini, iPhone 12 Pro, and iPhone 12 Pro Max.
Although both are powered by the Apple A14 Bionic chipset and have supported the 5G network, these four iPhone variants come with different specifications.
IPhone 11 vs iPhone 12 Specs Comparison
Interestingly, even though the iPhone 12 series is the latest and greatest, Apple still sells the iPhone 11 as part of their flagship iPhone lineup. Also, many iPhone 11 users might be wondering if the iPhone 12 really is an upgrade
Here we put together all the data and details on the "regular" iPhone 11 vs iPhone 12 comparison.
In this comparison, we're going to focus on the 6.1-inch iPhone 11 versus the 6.1-inch iPhone 12 (regular).
Actually there are similarities in screen sizes between the iPhone 12 mini and the iPhone 12, but we chose the iPhone 12 as the focus of comparison.
Display
One of the most noticeable differences between the iPhone 11 and iPhone 12 is the display. The iPhone 11 has a "Liquid Retina" LCD panel with a resolution of 1792-by-828 pixels. The result is 326 pixels per inch. This is actually lower than the 458 pixels-per-inch resolution that the iPhone 12 has.
The iPhone 12 has a better resolution of 2532-by-1170 pixels, but the most notable difference is the use of OLED display technology on the iPhone 12. This means users will get sharper colors and deeper blacks.
So that it will increasingly make the screen display more real, pamper and add to user comfort on this iPhone 12, in addition to a wider dynamic range, higher contrast ratio, as well as support for HDR technology.
IPhone 11 display:
Liquid Retina HD display
6.1-inch all-screen LCD display with IPS technology
1792-by-828-pixel resolution at 326 ppi
1400: 1 contrast ratio (typical)
True Tone display
Wide color screen (P3)
Haptic touch
625 nit max brightness (typical)
IPhone 12 display:
Super Retina XDR display
6.1-inch all-screen OLED display
HDR screen
2532-by- 1170 pixels resolution at 460 ppi
2,000,000: 1 contrast ratio (typical)
True Tone display
Wide color screen (P3)
Haptic touch
625 nit max brightness (typical)
1200 nits max brightness (HDR)
Most recently, the iPhone 12 screen is protected by what Apple calls Ceramic Shield technology, which offers 4x better protection performance than previous iPhones.
The iPhone 11 doesn't have this technology, so it's more susceptible to cracks and other damage when dropped.
Design
iPhone 11 and iPhone 12 have a screen size that physically looks the same at 6.1 inches. Even so, the iPhone 12 is actually superior because it is slightly smaller, thinner, and lighter, new design technology and smaller bezels.
iPhone 11 vs iPhone 12, both devices feature matte aluminum edges and the back has a more glossy finish.
Here are the dimensions of the iPhone 11:
Height – 150.9 mm (5.94 inches)
Width – 75.7 mm (2.98 inches)
Depth – 8.3 mm (0.33 inch)
Weight – 194 grams
Here are the dimensions of the iPhone 12:
Height – 146.7 mm (5.78 inches)
Width – 71.5 mm (2.82 inches)
Depth – 7.4 mm (0.29 inch)
Weight – 164 grams
The iPhone 11 has a round body with curved edges, while the iPhone 12 has a flat design similar to the iPad Pro and reminds us of the days of the iPhone 4 and iPhone 5.
Theoretically, this should make the iPhone 12 easier to hold and comfortable in the hand, but this may depend on individual tastes.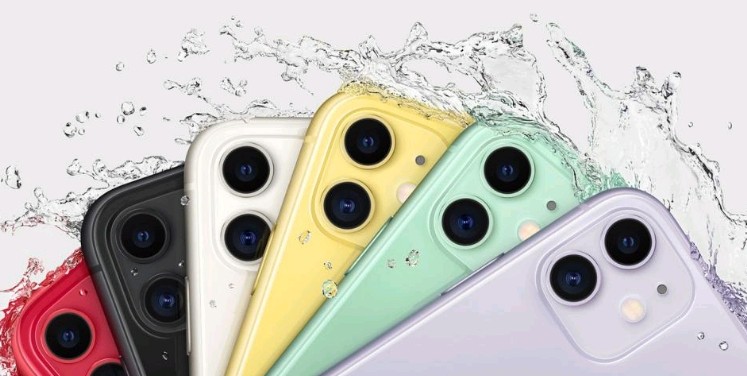 Both the iPhone 11 and iPhone 12 have an IP68 rating for splash, water, and dust resistance. This means that both devices can withstand immersion at a maximum depth of 6 meters to 30 minutes, which is amazing isn't it.
IPhone 11 vs iPhone 12 performance
Another striking difference that distinguishes the iPhone 11 and iPhone 12 is in terms of processor performance. The iPhone 12 has Apple's latest A14 Bionic processor, which is touted as "the fastest chip in a smartphone".
The A14 Bionic has two high-performance cores and four efficiency cores (two high-performance cores and four efficiency cores).
iPhone 12 also features the latest Neural Engine to enhance machine learning features and capabilities.
Apple says the new 16-core Neural Engine offers an 80% increase in performance compared to the previous generation.
Meanwhile, the iPhone 11 is supported by the Apple A13 Bionic processor and the third generation Neural Engine. While it's not Apple's newest and greatest silicon, the A13 Bionic processor ensures that the iPhone 11 will receive software updates every year.
Meanwhile, in terms of battery life, Apple claims the two models have exactly the same specifications. Namely able to work in:
– Video playback: Up to 17 hours
– Video playback (streamed): Up to 10 hours
– Audio playback: Up to 65 hours
Both devices also support fast charging for up to 50% charge in just 30 minutes, but the iPhone 12 also supports 15W wireless charging when using the Apple MagSafe Charger.
The iPhone 11 can charge via a MagSafe charger as well, but it doesn't have the magnetic system needed to accommodate 15W speeds. Instead, it is limited to 7.5W only.
Connectivity
iPhone 12 is the first iPhone to include 5G connectivity, rolling out at various speeds and on various timelines from carriers around the world. In the United States, the iPhone 12 supports sub-6GHz 5G as well as mmWave 5G.
Internationally, however, iPhone 12 5G support is limited to sub-6GHz network connectivity.
There is a bit of debate about the importance of 5G at the moment, but ultimately it depends on what's available in the user's area and from the mobile operator used.
If a 5G form is available in your area, 5G on the iPhone 12 will certainly work best, but if not, you will only be using LTE.
Whereas the iPhone 11 is limited to 4G LTE connectivity only. This means that users can connect to the LTE network, and reach what Apple calls "Gigabit-class LTE".
Camera
The iPhone 11 and iPhone 12 both feature dual-camera arrays on the back with a 12MP wide and ultra wide lens. The difference is that the iPhone 12 features a wide angle lens that is enhanced by ƒ / 1.6 aperture.
Meanwhile, the iPhone 11 only has an aperture of / 1.8, that is, more light will enter the camera, thus improving the quality of photography and video performance in low light.
Apple also says that the new wide camera on the iPhone 12 allows 27% better light than the iPhone 11 camera. Taking advantage of the power of the A14 and the new Neural Engine, the iPhone 12 also supports Night mode and Deep Fusion on the ultra wide lens for the first time.
There's also a new Smart HDR 3 system, which Apple says uses an intelligent auto system to adjust white balance, contrast, texture, and saturation of photos for better looking, natural-looking images.
Price
iPhone 12 is available in five different colors: black, white, red, green, and blue. And it is priced at global prices starting at $ 829 or around Rp. 12,280,000 for 64GB of storage.
The 128GB configuration costs $ 879 (Rp.13,030,000), and the 256GB model is priced at $ 979 (Rp.14,503,000).
The iPhone 11 on the market is now available starting at $ 599 (Rp.8840,000) for 64GB storage, $ 649 (Rp. 9,580,000) for 128GB, and $ 749 (Rp. 11,050,000) for 256GB. It is available in white, black, green, yellow, purple, and red.
Conclusion: iPhone 12 Vs iPhone 11
It can be concluded that there are indeed various improvements in the iPhone 12 when compared to the previous iPhone 11 series, including a new design and improved camera functions.
And what's special is of course the 5G connectivity. This may vary based on where the user lives, because 5G services are still very limited in our country, but for many iPhone 11 users, the LTE feature is actually quite fast.
If you're buying a new iPhone, or upgrading something older than the iPhone 11, it's hard to resist the design and features of the new iPhone 12, even though there's a Rp. 3,000,000 versus iPhone 11.
If you spend the extra cash on the iPhone 12 today, however, it will last for years and hold for the future thanks to 5G connectivity, the A14 Bionic processor, and a dual camera system.