#kamisukareview – Have you ever been curious about the free photo management made by you Google and Apple? So, so you are not curious, this time we will review the comparison of Google Photos vs iCloud Photos.
It's no secret, in overcoming the limitations of internal and external storage on smartphones, PCs and laptops we usually use cloud storage to store important moments taken with the iPhone, Android phone or camera.
Besides being safer and cannot be lost due to errors or loss of memory hardware, cloud storage or cloud storage is also more effective. Because it can be opened directly via an online network.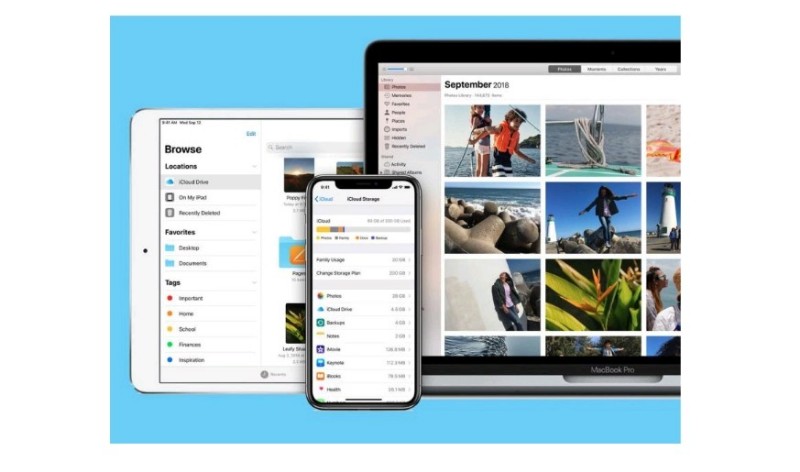 iCloud Photos vs Google Photos
Well, iCloud Photos or Google Photos is the most common and most used solution for photo management today.
Cloud photo management like this has become something only large tech companies can offer due to the ever increasing file storage costs and improved media quality.
Over the years, companies have come and gone and leave consumers with few choices photo application.
This category should be dominated by Flickr, but they struggle to create a good mobile experience. Today, we live with three companies: Apple, Google and Amazon. But for the Indonesian people the choice is only two Apple or Google. Apple and Google is the king of the world now.
Let's review the advantages and disadvantages of both to determine the best choice. So let's just start analyzing some aspects when considering Google Photos vs. iCloud Photos.
Pros and Cons of Apple iCloud Photos
If you are used to using Apple devices such as macOS and iOS, iCloud Photos has a very different advantage: it is a service that automatically connects to personal data.
Your camera roll will connect directly to iCloud Photos. If you post photos to applications like Instagram, all your photos will also be saved in Apple's cloud photo management.
If you want to use third-party editing tools, you can also give iCloud Photos access to your entire Gallery. Any edits you make are also automatically synced in this photo management service.
kCloud Photos on Mac is much faster than Google's web interface for managing photos on the desktop. You can create custom albums based on EXIF ​​data and then easily export photos (drag and drop).
One of the important benefits of iCloud Photos is that you can access the entire library from all your devices without having to download the entire database offline, you can also edit photos on your iPad, and then all your edits appear in iCloud Photos too.
Apple only includes 5GB of free cloud space, so if you have more than that, you'll need to pay for cloud storage with the iCloud storage plan option:
5GB: Free
Rp. 14,000 / month: 50GB
Rp. 43,000 / month: 200 GB
Rp. 140,000 / month: 2 TB
ICloud storage is also included in the Apple One bundle, including access to Apple Music, Apple TV +, and Apple Arcade.
The main downside to iCloud Photos is the lack of settings for the family gallery. iCloud Photos offers shared albums, but there is no way to share a single library.
Pros and Cons of Google Photos
Google Photos is Google's cloud-based photo management solution, which has several advantages that other cloud storages don't have.
However, the important question is does it offer enough to be a better solution than Apple's iCloud Photos?
The Apple service provides native apps with great edition solutions on the iPad and iPhone, but on the desktop, you'll rely on a web interface to access the library.
The lack of desktop apps is a huge negative for Google Photos. This Google service has a price advantage over Apple iCloud Photos because they offer a free plan that meets the needs of most people (15GB).
However, this free plan will experience discontinuation in 2021, here is the list of Google Photos price plans:
Rp. 28,000 / month for 100GB
Rp. 43,000 / month for 200GB
Rp. 140.000 / month for 2TB
From the price list above, Google Photos is very comparable to the price of Apple iCoud Photos. And this service from Google also offers family options.
Google Photos includes the option to share the entire library with other people. You can share your entire library, photos of only certain people, or photos from a certain date onwards.
This feature is carried out from Google account to Google account. Even if you don't want to experience the hassle, you can also log into your Google account on your partner's phone, and both of you can upload to the same place.
Conclusion
So which is the best between Google Photos vs iCloud Photos? Both of these services offer fantastic experiences and have their respective drawbacks and advantages.
Apple offers deep integration with iPhone, iPad, and Mac. Meanwhile, Google offers an efficient family sharing option. Google automation might be one step ahead of Apple when it comes to automatically creating memorable movies etc.
However, Apple offers better editing options because third-party applications can connect directly to their cloud storage Gallery, so they can best suit your usage needs.
If the priorities are personal and privacy and ease of integrity with iPhone, iPad, Mac then use iCloud Photos but if you want to share photo moments with the accounts of many people such as family or friends easily, then choose Google Photos.