#kamisukareview – Lenovo Indonesia launched a new range of PC gaming including Lenovo Legion 7i, Legion Y740Si, Legion 5Pi, Legion Tower 5, Legion Tower 5i, Legion Tower 7i, IdeaCentre Gaming 5i, IdeaCentre Gaming 5, and IdeaPad Gaming 3.
This new PC series will complement Lenovo Indonesia's PC gaming range in 2021. By still carrying the tagline "stylish outside savage inside".
The Latest Lenovo 2021 Gaming PC Series
Lenovo's latest gaming PCs come with an incredible mix of performance and design, including:
· Lenovo Legion Coldfront 2.0 thermal settings, a synergy of hardware and software that provides better airflow, lower system temperature to keep your Lenovo Legion laptop hot and quiet.
For devices that use an Intel processor, the Lenovo Legion gaming PC will be powered by a 10th Gen Intel Core laptop processor which supports the best portable systems for gamers and creators.
This processor is also equipped with up to 5.3 GHz Turbo, 8 cores, 16 MB Intel Smart Cache, and overclocking plus Intel Wi-Fi 6 (Gig +), Intel Thermal Velocity Boost (Intel TVB), and Intel Dynamic Tuning Technology (Intel DTT).
Dual Burn to optimize CPU and GPU performance simultaneously so gamers can enjoy FPS (frames per second) without thermal throttling.
· Lenovo Legion TrueStrike keyboards are precisely crafted to provide 100% anti-ghosting, sub-millisecond response times, and "soft-landing" switches for sensitive accuracy.
NVIDIA Advanced Optimus, Hybrid Mode, and Rapid Charge Pro for better battery life.
· World-class immersive display optimized with Dolby Vision and OverDrive Support with refresh rate options up to 144Hz.
"We see games as a fun way to connect and relieve stress in the current pandemic situation which is full of uncertainty.
"So far, Lenovo's latest gaming products have been designed and developed with reference to the opinions of the gaming community and customers.
"Therefore, the launch of Lenovo's newest PC gaming series is expected to meet the needs of gamers for a device that can provide an immersive gaming experience," said Kevin Adityo, Consumer 4P & T1 Manager, Lenovo Indonesia.
Lenovo Legion is also presented to support high mobility needs. "Nowadays, some Indonesian people have started working from the office and are used to working on a mobile basis.
"This indicates that they need a device capable of supporting high mobility. Our latest Lenovo Legion product is a solution.
"It can fulfill their mobility needs at work and support gaming activities during their spare time, both in terms of outstanding performance and stylish design.
"This is also part of Lenovo's commitment to always provide smarter technology for all people in Indonesia — smarter technology for all," said Budi Janto, General Manager of Lenovo Indonesia.
Legion 7i
The Lenovo Legion 7i is the latest premium 15-inch gaming laptop that provides unlimited performance for avid gamers. Has a frame made of completely metal.
"Available in Slate Gray, stylish RGB lighting at the base of the laptop, to cooling vents, this 2.2kg laptop is equipped with an amazing system.
"This gaming laptop is equipped with overclocked mobile processors up to the 10th Generation Intel Core i7 H-Series and advanced thermal settings.
"Not only pushing boundaries in gaming laptops, Legion 7i has also been certified by UL Verification Services because it can maintain stable performance for long periods with heavy performance loads.
"Rendering 240 unique frames in a one second window, and produces a keyboard input speed 1.9x faster.
"Lenovo Legion Coldfront 2.0 encourages the performance of this latest Lenovo gaming laptop which has been integrated with a Vapor Chamber and a range of thermal sensors.
"The dual fan system consisting of 73 liquid-crystal polymer fan blades enhances four special thermal channels for spinning air at its highest speed.
"The 6-point thermal sensor suite can quickly predict the thermal demand that will be needed to cool major components.
"In order to provide a quieter and better gaming session. Dual Burn also boosts the CPU and GPU simultaneously for maximum in-game performance. "
The Lenovo Legion TrueStrike keyboard features 100 percent anti-ghosting, sub-millisecond response times, and soft-landing switches for high-level accuracy.
You can experience superior key travel with a curved design for a more tactile gaming experience. Each button is equipped with more than 16 million color combinations from the Corsair iCUE lighting system.
The keyboards on all the latest Lenovo Legion gaming laptops are coated to resist abrasion and thinning of oily fingertips.
Not only that, the keyboard also has full-sized keys and numpad, accompanied by a larger trackpad, full-sized arrow keys, and dedicated media keys.
This latest Lenovo gaming notebook is precision-crafted to display stunning visuals with a 15-inch accurate 85.6% AAR color display with Full HD (1920 x 1080) In Plane Switching (IPS).
With refresh rates up to 144Hz with OverDrive support and NVIDIA G-SYNC options.
Have up to the NVIDIA GeForce RTX 2070 SUPER GPU with Max-Q Design for in-game ray tracing designed to enhance reflection and lighting effects for an incredible level of realism.
Then enjoy the rich color contrast of Dolby Vision on a super sharp screen where the sound from the Dolby Atmos Speaker System creates a very real and extraordinary gaming experience in this gaming notebook.
The Lenovo Legion 7i's more powerful 80WH battery is enhanced by the battery-sipping energy release feature for a more consistent battery life of up to 8 hours.
Meanwhile, the power adapter is slimmer to make it easier and more flexible to carry. Charge up to 50 percent in just 30 minutes with Rapid Charge Pro3 capability.
Price of Lenovo Legion 7i
Multitasking, streaming makes content easier with ample 1TB NVMe PCIe SSD storage media and up to 32GB DDR4 memory. Lenovo Legion 7i has a starting price of IDR 29,999,000.
Legion Y740Si and BoostStation eGPU
The newest, thinnest and lightest Lenovo Legion gaming laptop, the Lenovo Legion Y740Si weighs only 1.7 kg. First launched at CES, laptops are updated with up to mobile processors.
The 10th generation Intel Core i9 H-Series has an IPS panel display up to 15 inches 4K (3840 x 2160) coupled with VESA DisplayHDR 400, Dolby Vision and 100 percent RGB color gamut.
When it's time for fun, switch to performance mode by manually pressing the Fn + Q keys to trigger Lenovo Q-Control 2.0.
Connect the Lenovo Legion Y740Si to the Lenovo Legion BoostStation, an optional external GPU that will add NVIDIA desktop graphics to provide a true desktop gaming experience.
Price of Lenovo Legion Y740Si
The Lenovo Legion Y740Si laptop has a starting price of IDR 36,999,000 which includes the Lenovo Legion BoostStation eGPUGeForce RTX 2060. Lenovo Legion BoostStation is not sold separately.
Lenovo Legion 5Pi laptop
The Legion 5Pi is a powerful 15-inch gaming laptop for gamers who want a balance between style and adrenaline.
Its minimalist design with a glowing white "Y" logo and an Iron Gray chassis will make you look amazing when fighting other online players.
The Legion 5Pi offers great gaming performance with Intel's 10th Gen Core H-series processors, and NVIDIA GeForce RTX 2060. NVIDIA GeForce RTX offers real-time ray-tracing for better visual fidelity in the latest games.
This laptop has a 15-inch 1080p HDR IPS screen with a 144Hz refresh rate, 300nits brightness and a high dynamic range with VESA certification (VESA DisplayHDR 400).
The 100% sRGB color-accurate screen produces a lifelike image suitable for important jobs when editing photos and creating videos. The thin bezel and Dolby Vision technology make the experience more real in games.
The Lenovo Legion Coldfront 2.0 thermal system uses a suite of sensors to predict temperature constantly and optimize cooling.
Silent heat dissipation is achieved with the Dual Liquid Crystal Polymer fan. This allows the Legion 5Pi to maximize CPU and GPU performance while ensuring stable, low temperature, and quiet performance.
The latest Lenovo Legion TrueStrike 4-zone RGB gaming keyboard features soft-landing switch technology for comfort and tactuality with 1.5mm key travel. This keyboard is highly accurate with 100% anti-ghosting and a response time of under 1 millisecond.
The Legion 5Pi also has dedicated media controls, full-sized arrow keys, a number pad and a larger trackpad with Windows Precision Drivers that make navigation comfortable and smooth.
This keyboard also has a high level of resistance with a coating that can withstand oil and abrasion.
For big load times, the Legion 5Pi offers 32GB DDR4 RAM and solid-state drive and 1TB NVMe PCIe. The Legion 5Pi also has Intel Wi-Fi 6 and Bluetooth 5 wireless technology, and this laptop webcam comes with a built-in privacy shutter.
The Legion 5Pi weighs 2.5kg and is also equipped with Dolby Atmos along with Harman Kardon speakers which makes for a great audio experience.
The Lenovo Legion 5Pi offers a battery life of up to 80WHr for up to 8 hours of battery life6.
Price of Lenovo Legion 5Pi
With Rapid Charge Pro's capabilities, use the sleek power adapter to recharge from 0 to 50 percent in 30 minutes. This Legion 5Pi has a price of IDR 27,999,000.
IdeaPad Gaming 3
Now powered up to an AMD Ryzen 7 mobile processor, the IdeaPad Gaming 3 is here in Indonesia for those looking for Lenovo's latest, more affordable gaming laptops.
Designed to eliminate screen stuttering, slow game loads, and thick keyboards, the IdeaPad Gaming 3 laptop has refresh rates of 120Hz.
High-octane gaming sessions using this new laptop can last longer than before.
The IdeaPad Gaming 3 is powered by improved thermals with the addition of a special heat pipe for the discrete GPU as well as dual thermal vents for better air circulation.
The IPS Full HD (1920 x 1080) screen measuring 15 inches has a design with a thin bezel. You can choose an NVIDIA GeForce GTX 1650 or 1650 Ti GPU for an amazing gaming experience.
This more sophisticated gaming notebook in its class is equipped with Lenovo Q-Control 3.0 to change to performance mode and has a battery life of up to 8 hours3 with Rapid Charge.
Price of Lenovo IdeaPad Gaming 3
Available in two attractive colors, Chameleon Blue and Onyx Black, the IdeaPad Gaming 3 weighs only 2.2 kg and features a blue backlit keyboard.
The keyboard is equipped with 1.5mm key travel, a precise trackpad, full-sized number pad, large arrow keys and dedicated media keys. The price of the Lenovo IdeaPad Gaming 3 gaming laptop starts from IDR 12,999,000.
Lenovo Legion Tower 5, 5i and 7i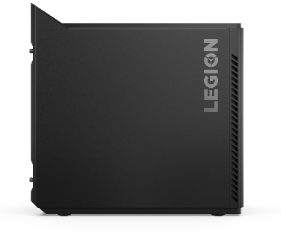 The Lenovo Legion Tower 5, 5i, and 7i are made for the avid gamer who wants a high-performance battle station.
Pushes system performance to its highest settings, while remaining cool and quiet in cinematic gaming sessions with a liquid-cooling system.
Get up to the NVIDIA GeForce RTX 2080 SUPER GPU for the Legion Tower 7i and the NVIDIA GeForce RTX 2070 for the Legion Tower 5 and 5i which are capable of delivering extremely fast frame rates with 4K resolution.
With blue LED lighting, RGB internal lighting options and Phantom Black chassis, gamers have the opportunity to show off their personalities and devices in high power with transparent side panels.
The new tower also has the Lenovo Legion Coldfront 2.0 cooling system. The Lenovo Legion Coldfront 2.0 thermal silent covers a complex system of hardware and software.
Provides better air circulation and lowers system temperature. The upgraded thermal has a 150-watt CPU cooling fan and larger intake fans, allowing for faster air to circulate through the 28 liters' spacious interior.
Prices for Lenovo Legion Tower 5 Series and Tower 7i
Powered by 10th Generation Intel Core i7 processors and up to AMD Ryzen 9 desktop processors, the Legion Tower 5 and 5i desktops start at IDR 24,999,000.
For the Legion Tower 7i, which is powered by up to the 10th Generation Intel Core i9 processor, it will have a starting price of IDR 40,999,000.
IdeaCentre Gaming 5 and 5i
The new IdeaCentre Gaming 5 and 5i feature blue lighting on the front and are powered by up to an Intel Core i7 or AMD Ryzen 7 processor and up to an NVIDIA GeForce RTX 2060 GPU.
Prices for IdeaCentre Gaming 5 and 5i desktops
Available in Chameleon Blue, the tower has better thermals that cool the system and reduce fan noise when running tough gaming needs.
The development of this tower will grow in line with the gaming needs of its users, and this desktop is also supported by Dolby Audio for rich audio sound.
IdeaCentre Gaming 5 and 5i desktops will have prices starting at IDR 13,249,000.
Lenovo Legion Y25-25 Monitor
Pair Lenovo's latest gaming desktop with one of the Lenovo Legion monitors. Get immersive eSports gaming with this incredible 24.5-inch (1920 × 1080) monitor and NearEdgeless IPS display.
Equipped with AMD Freesync Premium technology, a 240Hz refresh rate, and a fast 1ms response time with Moving Picture Response Time, the Legion Y25-25 ensures fast and fluid gameplay.
In addition, the monitor is flicker-free and with low blue light protects the user's eyes, making it ideal for gaming.
Price of Lenovo Legion Y25-25 Monitor
Equipped with HDMI, DisplayPort and audio out port, will ensure a more comfortable user experience. The Lenovo Legion Y25-25 Monitor has a price of Rp.4,499,000.